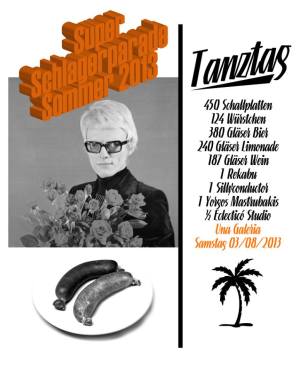 Party

Der Super Schlagerparade Sommer // Super Hit Summer Parade

Saturday, August 3th, 2013 – 16:00 – Vinyl Party
Where
UNAgaleria
10 General Budisteanu St., Bucharest
What
On the 3th of August, at UNAgaleria (10 General Budisteanu St.) in Bucharest, reopened only for one Saturday, few hundreds of Schallplatten (Vinyl Records), from a delicious well kept archives (in a place that we don`t want to talk about today), will bring to the fields the cool, calm, exact and obviously dancing coolness of the famous Black Forest Mountains and the yodel-ay-ee-oo-oo of the Tyrolean Alps.
The irresistible Weltanschauung( ideology ) from the 7th and 8th decades of the last century will float through vapors of wurst and beer, lemonade and sauer-kraut (pickled cabbage), Schnap and others.
In the gallery, the efficient DDR living room , set up by Eclecticó Studio, will serve as support for a contemplative exhibition of record covers, curated by the well known TanzTagTam Collective and composed of the most representative pieces of the archives (that we didn`t really wanted to talk about earlier).
Willkommen! Welcome!
More
450 Schallplatten
124 Würstchen
380 Gläser Bier
240 Gläser Limonade
187 Gläser Wein
1 Rekabu
1 Sillyconductor
1 Y. Mastrubakis
½ Eclecticó Studio
Und Zwei