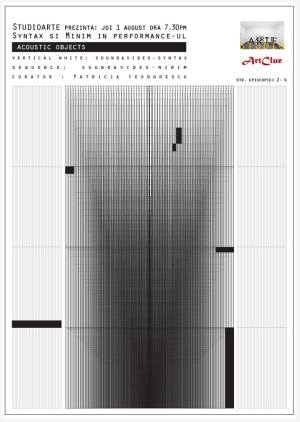 Art Show

ACOUSTIC OBJECTS

Thursday, August 1th, 2013 – 19:30 – art performance
Where
Studio ARTE
2-4 Episcopiei St., Bucharest
What
ACUSTIC OBJECTS, audio-visual performance:
Artists: SYNTAX and MINIM
Vertical white: Syntax
Sequence: Minim

Curator: Patricia Teodorescu

"Vertical White" includes a series of compositions made of sounds generated by input randomizing devices (Conway sequencers) which trigger generative acoustic-visual phenomena, referring to the high fidelity recording of spiritual and physical tension of the author at the moment of the expressive treatment of the matter (kanji, sumi-e action painting).
"Sequence" is the transposition of an intuitive sound flux aiming a simple compositional structure, evaluating from aerial, ambient to strong, broken, abrupt, repetitive beat. This sound structure generates a compact, direct visual pattern, representing the sound visualisation.