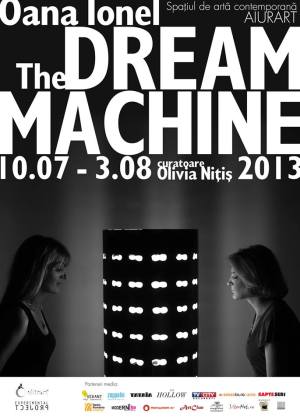 Art Show

Oana Ionel - The Dreammachine

Wednesday, July 10th, 2013 – 19:00 – Art show
Where
What
Oana Ionel - Mașina de vise / The Dreammachine
Curator: Olivia Nițiș.
10.07- 03.08.2013
Opening: Wednesday, 10th of July, at 19.00h, @Aiurart (Bucharest, Lirei 21).

The Dreammachine has been described as the first work of art to be seen with your eyes closed. Pulsating light stimulates the optical nerve and alters the brain's electrical oscillations. Under the influence of William Grey Walter's book, The Living Brain, along with Ian Somerville, Brion Gysin built The Dream Machine in 1961, a slotted cylindrical object whose rotational speed allows inside light to propagate with a constant frequency between 8 to 13 pulses per second. This frequency corresponds to alpha waves, electrical oscillations in the brain while relaxing.

The Dreammachine is an installation of light, sound and video in which the artist appropriates the experiment from 1960s to explore the psychological and theoretical dimensions of the gaze, from the image awareness regarded as aesthetic reality, to the internalization of the image as a pure sensitive element. Oana Ionel recreates and recontextualizes a sensory trail complicating the gaze on the border of hypnotic relaxation and discomfort. The apparently scientific aspect of the story surrounding the machine goes down to a science fiction fixed on the immaterial, inner visual experience, a psychedelic lyrical technological experience specific to late avant-garde. Such a proposal in a contemporary world where addiction holds a different type of representation has the effect of a vintage object.

Oana Ionel was born in 1984. She lives and works in Bucharest.
In present she is a Phd. student at the National University of Fine Arts in Bucharest. She finished her masters at the same university in 2012.