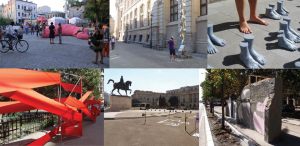 Launch

Expanded Space Art Project

Wednesday, October 31th, 2012 – 18:00 – Launching of the booklet Expanded Space – Individual and Mass
Where
What
SPATIU EXPANDAT ("Expanded Space") is a project of art in public space (19.04 – 31.10.2012) initiated by Volum Art Association, having the purpose to influence the public space through art, both conceptual and sensorial, as well as to initiate the connection of a larger audience to the contemporary art.
The event will feature the most interesting moments during the project and will be hosted by the artists involved: Mihai Balko, Claudiu Cobilanschi, Ileana Oancea, Dorina Horatau, Cristina Iacobescu, Judit Balko , by the art crtitic Adrian Guta and the curator Raluca Voinea.
Project official site here.