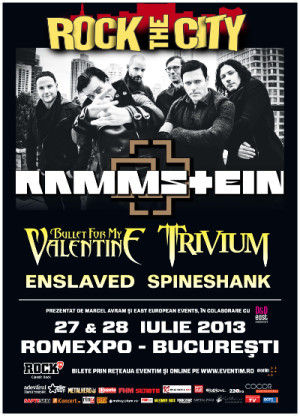 Festival

ROCK THE CITY 2013 - Rammstein

Saturday, July 27th, 2013 – 00:00
Where
ROMEXPO
65-67 Marasti Blvd, Bucharest
What
Rock the City 2013 Festival
27th-28th of July
RAMMSTEIN
Bullet For My Valentine
Trivium
Enslaved
Spineshank + more TBA
After the first concert in Bucharest (Sonisphere 2010), the German tanz-metal band won more fans in Romania. RAMMSTEIN is a perfect combination of music, energy, force and show.
Considered one of the greatest show bands in the world (drawing the attention of the big film directors, which have involve the band in various projects), RAMMSTEIN is a must show!
Apart from the various pyrotechnical effects, always surprising props, the masks with different connotations, the crowd diving and the incredible atmosphere a RAMMSTEIN show brings the public very close to the band, as practically part of the show.
According to the saying "other bands play, but RAMMSTEIN burns!" RAMMSTEIN comes back to Bucharest in 2013 with a new show, only at Rock The City festival!
Rammstein released in December 2011 the "greatest hits" album entitled "Made in Germany 1995-2011", also including a new song, "Mein Land". The album was promoted through a world tour started in November 2011 and ended in May 2012.
----------------------------
Bullet For My Valentine, the most spectacular metalcore band in the world comes for the first time in Romania at the biggest rock festival of the summer, Rock The City Bucharest 2013, on 28th of July.
The Welsh metal-core band Bullet For My Valentine has spent most of the past two years taking over the world with massive U.K., European, U.S. and worldwide tours, sharing the stage with Guns N Roses, Metallica and Iron Maiden, playing the Main Stage at just about every rock festival on the planet, and seeing their 2006 debut album THE POISON - an album London's daily The Sun called "One of the finest debut albums in rock history" - sell more than one-million copies worldwide – 350,000 in the U.S. alone – a very rare achievement for an emerging band.
Bullet For My Valentine was founded in 1998 in Bridgend, Wales, under the initial name of Jeff Killed Jack. Currently, the band includes Matthew "Matt" Tuck (vocals, guitars), Michael "Padge" Paget (guitars), Jason "Jay" James (bass) and Michael "Moose" Thomas (drums) has over three million sold albums and released in 2013 their new album, Temper Temper.