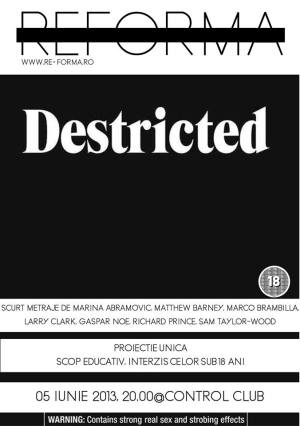 Film

REFORMA CINEMA: DESTRICTED

Wednesday, June 5th, 2013 – 20:00
Where
What
REFORMA CINEMA - DESTRICTED
Short film collection (18+)
(English, no subtitles)

Surprize Bulangerie after party.

The films (129 minutes):

Balkan Erotic Epic - Marina Abramović
Hoist - Matthew Barney
Sync - Marco Brambilla
Impaled - Larry Clark
We Fuck Alone - Gaspar Noé
House Call - Richard Prince
Death Valley - Sam Taylor-Wood


DESTRICTED [er], v,
1. To unlimit restriction
2. To bring objectivity by putting out of restriction.
3. To deconstruct within bounds, to unconfine.

"Destricted" is the first short film collection of its kind, bringing together sex and art in a series of short films created by some of the world's most visual and provocative artists and directors.

Explicit in content they reveal the diverse attitudes by which we represent ourselves sexually. Formed in 2004, "Destricted" is a platform for all forms of uncensored artistic expression; manipulating and embracing the expression of sex through art.

A collection of sexy, stimulating, challenging, provocative, strange and sometimes humorous scenarios that leave it up to the viewer / voyuer to decide.

"Destricted" premiere at the Tate Modern, London. The series has been overwhelmingly well-received at select theatrical screenings, which have become events and experiences in themselves, provoking much debate within the shared audience environment.

If porn is work that serves no purpose other than causing sexual arousal, then erotica is sexually explicit material that has artistic merit beyond its ability to arouse. Erotica, for that matter, need not even arouse. Sometimes the sex in an erotic story makes us laugh or cringe or cry. Where porn depends on its ability to inspire a physical response, erotica has something broader to say about human beings as sexual creatures whether it gets us off or not.

Sex toys sold in supermarkets, the society swingers scenes, porn stars as cultural icons, sex scenes commonplace on TV and film - Nip and Tuck, Sex & the City, The Piano Teacher, The Dreamers, Nine Songs - all lead to new definitions of romance, relationships, monogamy & marriage.

We're younger for longer in body and mind and see sex as an open, evolving discussion in our lives. The edge between implicit and explicit sex is blurring.

The Press

"It has a brutal, casual candour, and does try to say something about the mainstreaming of pornography." (The Guardian)
"DESTRICTED is the most controversial and sexually explicit film ever to receive an 18 certificate from the BBFC." (The Observer)
"Beatifull and smart." Vice magazine


The screening is 18+ restricted.