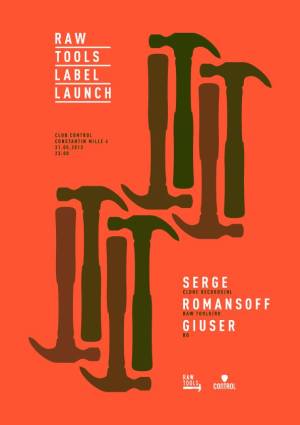 Party

Serge (Clone Records) @ Raw Tools Label Launch

Friday, May 31th, 2013 – 23:00 – Vinyl Party
Where
How much
15 LEI
What
Serge (Clone Records/NL)
Romansoff (Raw Tools/RO)
Giuser (RO)
Dutch label Clone Records is well-known for names such as Reggie Dokes, 2562/a made up sound, Adult., Alden Tyrell, Dexter, I-F, Dopplereffekt, Legowelt, Duplex, Drexciya, Elitechnique, Putsch 79, Larry Heard, Marshall Jefferson, Marco Bernardi, Bangkok Impact, Kettel, Serge, Cosmic Force, Orgue Electronique, Fred Ventura, Scott Grooves, Mike Dunn, D.I.E. and many others.
Raw Tools is a Vinyl only label based in Bucharest, Romania, providing raw analogue house music, represented by the mighty DJ, Romansoff (owner, founder and the sole artist @ Raw Tools by now)
Giuser is a Romanian DJ, with a special, very personal sound.