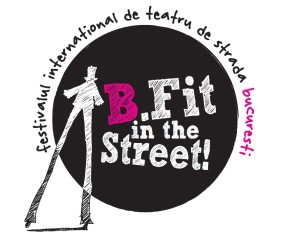 Festival

B-FIT in the Street 2013

Thursday, May 30th, 2013 – 16:00 – theatre in the street festival
Where
Bucharest centre

What
The 5th edition of the International Festival of Street Theatre in Bucharest - B-FIT in the Street!
Period: 30th of May- 2nd of June 2013
Four days of street theatre in the following locations in central Bucharest: George Enescu Sq., Old Town, Universitate Sq., Cismigiu Park and all the main boulevards.
This edition brings over 15 troupes from 6 countries.
Organizer: ArCuB
Participants:
Compagnie Off - PARABOLES (France)
Theater Tol - LUCE (Belgium)
Compagnie des Quidams - Le Reve d' HERBERT (France)
Xtreme Project & Mirel Cumpanas with Silvestri Orchestra - conductor Tiberiu Soare (Romania)
Sam Shine - DIVAS, FLUOR FANTASTIC, FABULOUS FISH (Netherlands)
The Beat Brown Production - M{U}F (Spain)
International Show Parade with the shows: Clown Band (Italy), Comic Band (Italy), Dinosaurs (Netherlands), Giant Dolls (Spain), Los Fotografos (Spain), Red Lady (France), The Butterflies (The Netherlands), The Fairies (France)