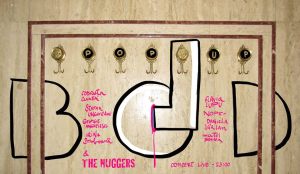 Art Show

BOLD

Friday, May 24th, 2013 – 19:00
Where
POP-UP
11 Nicolae Tonitza St., 2nd Floor, Apt. 5
What
ARTISTS

George Anghelescu - http://georgeanghelescu.ro/
Matei Branea - http://branea.ro/
Irina Broboană - http://irina.broboana.ro/
Codruța Cernea - http://codrutacernea.blogspot.ro/
Flavia Lupu - http://flavia-lupu.blogspot.ro/
Noper - http://noper.ro/
Ștefan Ungureanu - http://on.fb.me/Z8GUoN
Daniela Vîrlan - http://danielavirlan.blogspot.ro/
&
THE NUGGERS - http://nuggers.bandcamp.com/

INFO

Opening NAG, 24.05, 10h00
Live Concert THE NUGGERS, 23h00

25, 26 & 27.05, only by appointment, 16h00 - 21h00
Contact: [email protected]com
More
BOLD is a measure unit of personal commitment in one's own art, it is a turn of meaning towards the introverted, individualistic side, on the principle that each individual acting exemplary gives qualitative content to the world and time he lives in. The ideatic gesture is meant to be from micro to macro, from the individual/artist towards society/culture, from subjective sincerity towards an objective analysis of the cultural spectrum, in search of an existential, conceptual and artistic binder.
We turn to the individual as "atom" (the smallest constituent element of the social aggregate) from a desire to explore in a noncombambative way the evolutionary direction of the present historical moment. This moment is one in which society is atomized and the individual alienated, where firm cultural landmarks disappear swallowed into the informational flux which increases exponentially, indiscriminately dissolving all the local and individual particularities into an amorphous and homogeneous mass. Understanding through immersion this process of forming the globalized "new man", we might be able to divert the mechanism to our advantage, in the attempt of us becoming that exemplary individual, each one in part anchor and ponderation against this "brave new world".

THE NUGGERS are a garage rock n' roll 4-piece from Bucharest, Romania. They play raw, fast songs about booze, women and nonsense. They formed in 2010. They have an EP out on Ghost Highway Records and a song released on the Future Nuggets compilation.

POP UP is an ad-hoc exhibitional space with a short life span, that pops up overnight - The White Night of the Art Galleries, to host the visual material proposed by the BOLD artists.