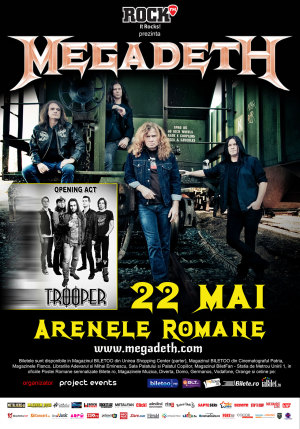 Concert

Megadeth live @ Bucharest

Wednesday, May 22th, 2013 – 20:00 – Rock concert
Where
How much
100 LEI
What
The concert will take place at Arenele Romane, inside Carol Park.
Opening Act: Trooper
Megadeth is an American heavy metal band from Los Angeles, California, formed in 1983 with its roots in thrash metal, a genre that its founder, singer/songwriter and guitarist Dave Mustaine helped pioneer. The band has since released 13 studio albums. Megadeth consists of Dave Mustaine (vocals, guitars), Chris Broderick (guitars, background vocals), David Ellefson (bass, background vocals) and Shawn Drover (drums, percussion, background vocals).

Mustaine's musical roots began early on listening to AC/DC and Led Zeppelin, and took form in the New Wave of British Heavy Metal when he co-founded Metallica. Megadeth emerged in 1985 at the forefront of the thrash/speed metal scene with their seminal debut "Killing Is My Business… And Business Is Good", and continued on a blistering path of albums and tours throughout the decade. The nickname "world's state-of-the-art speed metal band" and the critic-coined "intellectual thrash metal" were often used to describe Megadeth's sound, referring to Mustaine's niche for angry, witty, intelligent lyrics about topics like politics, drugs and war, fused with aggressive, intricate guitar structures and a jazz-influenced rhythm section.

With a string of five consecutive platinum and multi-platinum albums Megadeth became one of the biggest bands of the mid-'80s and '90s, boasting such arena anthems as "Peace Sells… But Who's Buying" (The opening bassline was used as the theme for MTV News for years afterward), "Holy Wars… The Punishment Due", "Symphony Of Destruction" and "Sweating Bullets", along with the top singles in 1997/98 off "Cryptic Writings", "Trust" (No. 1 radio track), "Almost Honest", "Use The Man" and "A Secret Place". In all, the band has scored five Top 10 albums and two Top 5 releases.

The 90's saw a change in Megadeth's sound with the polished and commercial multi-platinum release "Countdown To Extinction", which skyrocketed them into multi-platinum success and MTV stardom. The incorporation of this new sound would be a trademark of every release to come, and would eventually earn them 11 Grammy nominations for Best Metal Performance, 7 platinum certifications, and selling more than 38 million albums worldwide.

After a brief hiatus early in the 2000's, Mustaine triumphantly returned with a comeback album, a heavy metal festival called Gigantour and a new display of prodigious musicians to back him. The band's legacy continued with 2009's critically acclaimed "Endgame", which debuted at #9 on the Billboard charts and 2010's multi-platinum "The Big Four: Live From Sofia", Bulgaria featuring the "Big Four" of 1980's thrash metal — Metallica, Megadeth, Slayer and Anthrax.

Megadeth's 13th studio album, "TH1RT3EN" was released in November, 2011 debuting at #1 on The Billboard Hard Rock Albums chart and #11 on the Billboard 200. The album was recorded at Vic's Garage studio in San Marcos, California with producer Johnny K. The band is currently working on their 14th studio album titled "Super Collider", which is due for release in June, 2013. "Super Collider" is the first release on Mustaine's new label, Tradecraft, through Universal Music Enterprises.
More
Entrance fee: 100 lei (in advance) 125 lei (at the door)
Organizer: Project Events
Tickets: BILETOO shop in Unirea Shopping Center,BILETOO shop inside Cinema Patria, Flanco shops, Adevarul bookstores, Diverta stores, Muzica, Sala Palatului, Libraria Eminescu, Palatul National al Copiilor or metro station Unirii 1.
Online - BILETOO.RO, BLT.RO, BILETE.RO, MYTICKET.RO and IABILET.RO.