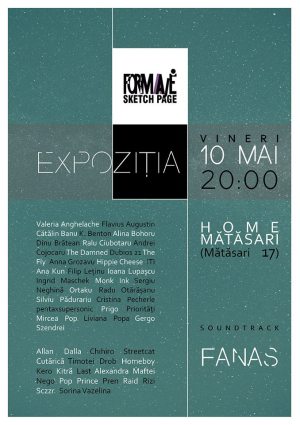 Art Show

Formaje Sketch Page - THE SHOW

Friday, May 10th, 2013 – 20:00 – Illustration Art Show
Where
Home Matasari
17 Matasari St., Bucharest
What
Formaje Sketch Page showed the interpretation of the forming action by several artists and a was call for any isslustrator who likes to experiment.
Theme: illustrate any meaning of the word "formaj/e" (forming) – the action of giving forming, giving a form to an object. The only limitations are the format of the Formaje Sketch Page (22.5 x 22.5 cm) and the deadline was 21.04.2013.
After a month the best works generated are now displayed at Home Matasari.
Artists in show: Kitra, Alexandra Maftei, Allan Dalla, Kero, Pren, Sczzr, Pop Prince, Chihiro Streetcat, Rizi, Cutărică, Raid, Homeboy, Timotei Drob, Sorina Vazelina, Nego and Last
+ Valeria Anghelache, Flavius Augustin, Cătălin Banu, K. Benton, Alina Bohoru, Dinu Brătean, Ralu Ciubotaru, Andrei Cojocaru, The Damned, Dubios21, The Fly, Anna Grozavu, Hippie Cheese, ITI, Ana Kun, Filip Letinu, Ioana Lupaşcu, Ingrid Maschek, Monk Ink, Sergiu Neghina, Ortaku, Radu Otărăşanu, Silviu Pădurariu, Cristina Pecherle, pentaxsupersonic, Prigo, Priorităţi, Mircea Pop, Liviana Popa şi Gergo Szendrei.
Party with FANAS (jazz-funk & electro).