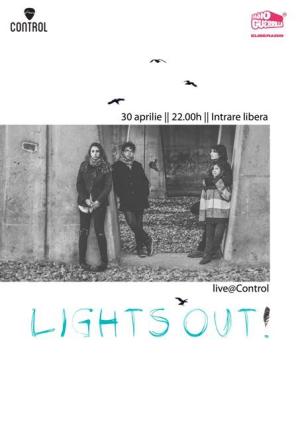 Concert

Lights Out! live

Tuesday, April 30th, 2013 – 22:00 – indie/psychedelic concert
Where
What
LIGHTS OUT! (indie/psychedelic, Cluj-Napoca) - live act
Afterparty w/ Cliza & Stutz

free entrance
Formed in February 2010, Lights Out! are a four-piece psychedelic/indie rock band. Consisting of Teo Retegan (vocals and keyboards), Andrei Bobiş (guitars), Andrei Sîncrăian (guitars) and Oana Pop (drums), all from Cluj-Napoca, the band made its debut on the musical scene of this Northern Romanian city late April, the same year.
The band focused on developing a solid setlist, tightening and continuously refining their sound. Positive feedback came in no time: Lights Out! have been invited on numerous occasions to play alongside well-known international bands, such as O. Children and Chew Lips, and bands from the Romanian new wave of alternative rock music scene also, such as Grimus, The MOOoD, The Mono Jacks, Omul cu şobolani, The Amsterdam or Snails, at various festivals and gigs.
The Lights Out! sound could be described as a mix of steady flowing rock grooves and deep, blissed-out psychedelia. Amongst all the indie rockish turns and twists, the dreamy guitars create sweeping soundscapes, which are topped off with the spellbinding vocals provided by Teo, the lead singer.