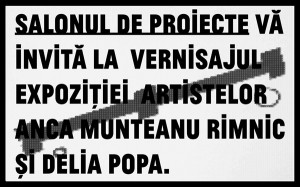 Art Show

Anca Munteanu Rimnic & Delia Popa

Thursday, April 25th, 2013 – 19:00 – Art Show - installation and performance @ Salonul de Proiecte
Where
What
Anca Munteanu Rimnic and Delia Popa at Salonul de proiecte

Opening: Thursday, April 25th, 7 p.m.

April 25th – June 2nd, 2013

Since last season Salonul de proiecte has been working with artists Anca Munteanu Rimnic and Delia Popa on developing the projects that have now come to fruition in the present exhibition. While Anca Munteanu Rimnic was invited to make a proposal on the occasion of the Global Without Globalisation exhibition, Delia Popa was one of the artists selected as a result of the 2011/2012 Open Call for emerging artists. For various reasons, the two proposals were unable to be completed within the framework of the exhibitions in question, but Salonul de proiecte continued steadfastly to support their endeavours.

Delia Popa's work, We, Our Friends and Us: A Theatre Piece for Multiple Monitors, is an installation that arose from discussions on apparently divergent topics such as civic activism and spirituality, which the artist had with various people from her circle of acquaintances. It was in this way that the idea of interviewing friends and people who inspired her came about. The seven interviewees, active on different "fronts" in the social sphere, are presented as pseudo-characters, such as "The Atheist Feminist Artist", "The Buddhist Artist" or "The Christian Engineer". Delia Popa arranges the interviews in four acts, the same as in a play for the theatre: the "characters" talk to one another indirectly, and each interaction between the "characters" creates a dramatic moment.

For her presentation at Salonul de proiecte, Anca Munteanu Rimnic prepared two works that reflect her perception of Romania, her leaving the country, and her attempt to enter into a relationship with the exhibition space. The building where Salonul de proiecte is located used to be a paper warehouse. The traces of this past can still be seen on the floor, and the imprints visible in space provide the premise for a site-specific intervention. In connexion with this project, the artist developed a work based on interaction and performance: a video installation in which six women improvise starting from various concepts proposed by the artist, together forming a choreography of the "threnody". Anca Munteanu Rimnic's project has been realised with the support of the Bucharest Goethe Institute, and in 2014 Distanz Verlag, Berlin, will publish a book relating the artist's personal experiences to her own reflections on contemporary society.

Special thanks: Galerie PSM Berlin.
More
Delia Popa works primarily with performance, video installation and text, and she draws inspiration from fields such as History, Comedy, Visual Anthropology and Trauma. She has a Master in Fine Art degree from the School of the Art Institute of Chicago (2007), and a postgraduate diploma from Goldsmiths College, University of London (2005). Recent works include the research project Chelen Amenca/Dance with Us, produced together with American artist Ellen Rothenberg, that took place in a Roma community in Sibiu county, and was supported by the Brukenthal National Museum Sibiu, Astra Museum Complex Sibiu and the School of the Art Institute of Chicago. Part of the research was presented within Chelen Amenca/Dance with Us exhibition, curated by Anca Mihulet, at The Contemporary Art Gallery of the Brukenthal National Museum Sibiu (2012). Delia lives in Bucharest. (www.deliapopa.com)

Anca Munteanu Rimnic is producing a multifaceted and powerful oeuvre of sculptures, photographs, and filmic performances that are distinguished by unconventional ideas and a unique and personal language. Munteanu Rimnic was born in Bucharest in 1974 and left for Germany with her parents in 1980. Between 1995 and 2001, she studied fine arts at the Berlin University of the Arts. From 2004 to 2006, she attended the master classes led by John Baldessari at UCLA in Los Angeles and by Mike Kelley and Jack Goldstein at the Art Center in Pasadena. In 2006, a German Academic Exchange Service fellowship enabled her to spend a year in Japan. Munteanu Rimnic lives and works in Berlin. Recent exhibitions at: 4th Moscow Biennale; Cabaret Voltaire, Zürich (2011), Hebbel am Ufer, Berlin; Club Electroputere, Craiova; Spinnerei, Leipzig (2010).