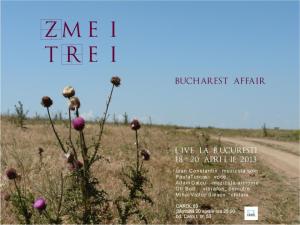 Concert

Zmei Trei

Saturday, April 20th, 2013 – 20:00 – Fusion concert
Where
How much
20 LEI
What
The new sound of old Romanian traditions.

A great harmonica master of genuine native talent and decades of experience re-discovered and re-placed on the music world map.

Now in an explosive fusion with jazz vibraphone and the unique voice of Paula.

Wild Romanian folklore is brought to you by Zmei Trei. Utmost virtuosity on harmonica accompanied by vibraphone and guitar: a touch of the unusual and the surprising in the instrumental/voice arrangement, all the more revealing the beauty of the Romanian sound.
Ioan Constantin | solo chromatic harmonica
Paula Turcas | vocals
Oli Bott | vibraphone
Adam Datcu | chord harmonica
Mihai Victor Iliescu | bass, guitars, vocals
Recommended donation - 20 lei