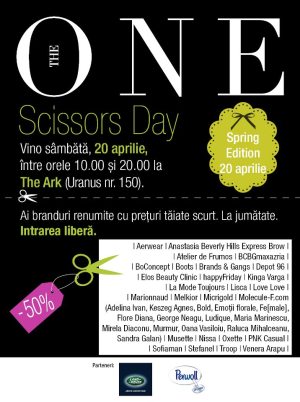 Fair

The ONE Scissors Day

Saturday, April 20th, 2013 – 10:00 – Fashion Fair
Where
What
The ONE Scissors Day is a fashion and beauty brands and designers fair organized in Bucharest by a fashion and style magazine for women.
Young Romanian fashion designers, fashion and beauty brands are going to sell 50% off for a day.
Participants: Aerwear, Anastasia Beverly Hills Express Brow, Atelier de Frumos, BCBGmaxazria, Brands & Gangs, BoConcept, Boots, Depot 96, Egea Orbico Beauty, Elos Beauty Clinic, happyFriday, Kinga Varga, La Mode Toujours, Love Love, Lisca, Marionnaud, Melkior, Micrigold, Molecule-F.com (Adelina Ivan, Keszeg Agnes, Bold, Emotii florale, Fe[male], George Neagu, Ludique, Maria Marinescu, Mirela Diaconu, Murmur, Oana Vasiloiu, Raluca Mihalceanu, Sandra Galan), Musette, Nissa, Oxette, Petit's, PNK Casual, Sofiaman, Stefanel, Tartine et Chocolat, Troop, Venera Arapu.
Free entrance