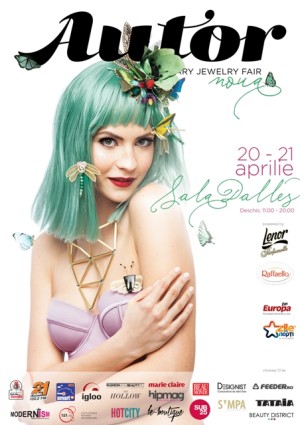 Fair

AUTOR #9 contemporary jewelry

Saturday, April 20th, 2013 – 11:00 – Contemporary jewelry fair
Where
Sala Dalles
18 Nicolae Balcescu Blvd., Bucharest
How much
10 LEI
What
For the fashion accessories addicted, this is the more important fair bringing together more than 70 designers specialized in contemporary jewelry and objects:
Jewelry designers: Ana Wagner, Andra Lupu, Anamaria Dobraş, Alexandru Lupu, Anca Pandrea, Alina Carp, Andreea Bololoi, Alis Lalu, Andreia G Popescu, Alliage, BashoU, Romana Țopescu, Carla Szabo, Raluca Buzura, Ovidiu Sbancu, FashionMachine, Alina Simion, Ioana Enache, Moogu, MyPrecious Buzztard, Cornelia Brustureanu, Atelier Pezzidisogni, Prochaine, Ostra Berdo, Odette Lupu, Noha Nicolescu, Mihaela Zvîncă, Maria, Maria Filipescu, Mihaela Ivana, Mădălina Stoica, LivingenBermudas, Lidia Puică, Liana Sălăgean, Lady Magpie, Karakter, Iuliana Asoltanei, Isabela Groza, Irina Raichici, Sergiu Alin Ioana, Horaţiu Weiker, Grigore Mitrea, Doru Dumitrescu, Cristina Barsony, Expression by Alexandra Ungurelu.
Foreign guests: Clarisse Bruynbroeck (Belgium), Neva Balnikova (Bulgaria), Kalina Chankova (Bulgaria).
Object designers and studios: Agnes Keszeg, The Awesome Project, Constantin Alupoaiei, Anca Fetcu, TheCraft Lab, Alexe Popescu, Dragoș Dogaru, Ramona Bejan, Silva Artis, Alina Turdean, Ioana Ciurea [Prototip Studio], arhiDOT design, Irina Alexandru and 11am architects.