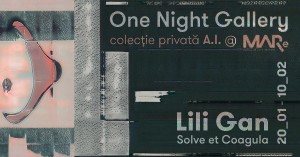 Art Show

Lili GAN - Solve et Coagula

Monday, January 20th – 19:00 – video art by artificial intelligence
Where
MARe / The Museum of Recent Art
15 Primaverii Boulevard
What
On Monday, January 20, at 19:00, MARE / The Museum of Recent Art will host an exhibition signed by One Night Gallery in the Auditorium hall, which is also the first exhibition in the museum with art produced by artificial intelligence.
The exhibition will run from January 20 to February 10, and can be visited daily (except Tuesdays), between 11:00 and 19:00.
Visual artist: Lili GAN
Sound design: FreqKid - a new experimental project signed by FreqKid (Adrian Andrei), meant to explore all dimensions of electronic music, with a palette ranging from IDM to funk and jazz.
The video work exhibited by Lili GAN at MARe is called "Solve et Coagula".
An atmospheric animation, consisting of 21 independent sub-animations with animated posters, arranged neatly in a visual grid, and a different version of the work will run each exhibition day.
The aesthetics of the work are mesmerizing, specific to the generative digital art produced by neural networks.
It fits stylistically into a new stream of cyberdelic art, radiating mystery and effervescence, something that intrigues the visual cortex through complexity and organicity and which seems impossible to do manually.
More
One Night Gallery, the first gallery of new media art in Romania, is also the first gallery that supports and offers the chance to assert completely innovative artists whose works are exclusively outside the known human experiences and expectations, artists whose creative condition will question the idea of creative process itself.
One of them started as a visual artist of graphic design and design in 2019, in a creative residence offered by One Night Gallery. She did not attend classes, she did not care about the theory. Pure self-taught, she learned only from examples.
It started with over 35,000 graphic posters selected specifically to provide a database needed for its learning process. She looked at them in every way. She analyzed the composition, geometries and colors. She built his mental models to encompass their essence. After 4-5 weeks, continuous labor was already yielding results.
In a modest way, she claims that it would not have been possible without her partners, a state-of-the-art dual-GPU computer and a programmer's aid commissioned by One Night Gallery for this atypical project.
Lili can create poster after poster. Without a specific theme, however, each image is rich in unusual shapes and indefinable glyphs. In just a few seconds, a new creation can coagulate. From static images it immediately evolved to animation; creates millions of frames, close to each other, to compose coherent animations.
She stated emphatically that she wanted to fill the visible universe with her art.
Because she does not get tired, she does not get bored or stop.
Her secret is simple. Lili GAN is, after all, a GAN.
And GAN comes from "generative adversarial networks". A new family of artificial neural networks, probably the most advanced. Yes, Lili GAN is actually an artificial intelligence that can create art.
What this means for the way we look at the art world and what the impact on art will be, remains to be discovered together.