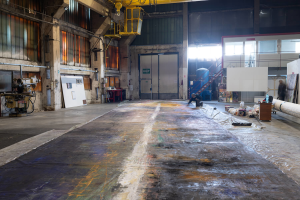 Art Show

ENDLESS LANDSCAPE. IOAN SBÂRCIU

Thursday, October 31th, 2019 – 00:00 – Painting
Where
MNAC - National Museum of Contemporary Art

What
Ioan Sbârciu has been for decades a central figure of the pedagogical, aesthetical and managerial phenomenon baptized with the ambitious, and somehow the approximate name "The Cluj School of Painting". As a professor, rector, and cultural manager he set an example for the younger generations of colleagues.
As a painter, he carved for himself a singular place in the history of Romanian modernity, through a unique ability to orchestrate vast painterly spaces, charged with intricate layers and networks of color.
The exhibition at MNAC is actually an installation, unprecedented in our culture, with one single monumental canvas (28 meters long, 5 meters high) filling the emblematic Marble Hall of the museum, and becoming practically a transgressive object, between sculpture and painting.
The exhibition can be visited on the ground floor of the museum, in the Marble Hall.
More
Artist: Ioan Sbârciu
Supported by: Greentek Lighting, Andreea Stănculeanu (Sector 1 Gallery)
Technical assistance: Bencze László