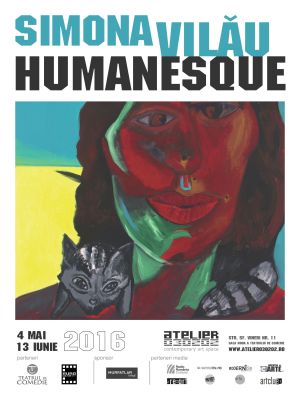 Art Show

HUMANESQUE - Simona Vilău

Wednesday, May 4th – 19:00
Where
What
HUMANESQUE
Simona Vilau
May 4th - June 13th 2016
Atelier 030202 coordinator: Mihai Zgondoiu
Opening: Wed, May 4th 2016, 7 PM, ATELIER 030202
(Sala Nouă TC), str. Sfânta Vineri nr. 11, Bucureşti
Humanesque is Simona Vilau's sixth solo show and it comprises works on canvas from 2014-2016. It also represents her return to painting, to studio routine and solitude. Although she has been involved in many art projects and initiatives as a curator or coordinator, having an up-to-date social behaviour, the artist is preoccupied with a more intimate and simple approach on art in the loneliness of her studio.
Her painting is projected like a life-long diary, where she depicts the most intense experiences and the most powerful known or invented images. As curator Ioana Mandeal observed in an essay about Simona Vilau's drawings, "in the subjective reality she describes, the life movements or remains, the relationship with the others, the rope yarn and any insignificant fact of the day are permanently (re)codified through the wisdom of a lenticular outlook endowed with exquisite emotional intensity, which, starting from matter's epidermis, focuses it in the depth and transcends it."
These recent works have ambiguous and sensitive themes, inspired by a new social and affective situation. "Maternity doesn't make me a better artist, but it surely contributes to the enrichment of my artistic experience and it transforms it into something humanesque, natural. (...) The baby's breathing is regulated, perfect, she became my second self. I hear her breathing through walls, through the floor, though the door's glass, the whole house breathes along with her. The mother inside me is happy when the baby is breathing." (2016, diary fragment)
Simona Vilau (b. 1983, Tirgu-Jiu) is an artist and curator based in Bucharest, Romania. She studied Painting at the National University of Arts from Bucharest, with professor Sorin Ilfoveanu and his assistant, Alexandru Radvan (class of 2006). She first opened a solo show in 2005, and since then she has been present, as an artist, in many contemporary art spaces around the city. More on her activity is to be found here.
www.atelier030202.ro / www.atelier030202.blogspot.ro
facebook event: http://bit.ly/1Ufqk6E
Organizer: ATELIER 030202
Partners: Teatrul de Comedie, Asociaţia Euro CulturArt
Sponsor: Murfatlar România SA
Media partners: Agentiadecarte.ro, Radio România Cultural, Senso TV, ArtClue, Revista ARTA, Modernism.ro, re:ART, Bucharest-tips.com