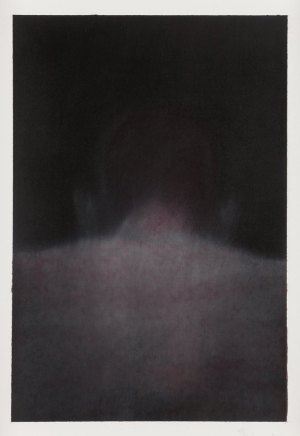 Art Show

NUMINOUS / Mihai Ciplea

Wednesday, February 24th, 2016 – 19:00
Where
What
NUMINOUS - Mihai Ciplea
24th of February – 21st of March 2016
Curator Atelier 030202: Mihai Zgondoiu
Opening: 24th of February 2016, 7 pm
"My pursuit is tied to the attempt to visually transpose the psychical state, the constant movement between two conditions: the impossibility to stop, to embody and to focus; that state of human uncertainty as a fundamental human condition. In my work I try to create paradoxical spaces and situations where light and dark can't be individually spotted and also play a precariously role.
This series of works is realized using the dry pastel technique. I chose this method due to its malleability, giving me the possibility to record on the surface of the paper a transitional process between the images. My purpose was to transmit the feelings of change, transfiguration, internal movement and turmoil, to capture that tension or quietness whom one feels when he destroys and recreates.
The images are created by overlapping layers of pastel, and then, successively removed. The pastel is wiped and recomposed numerous times on the surface of the paper, thus getting a fusion effect that captures the memory of a transitory process. The painting receives its form after the repeated corrections and oscillates between the two conditions – construction/deconstruction" Mihai Ciplea
Mihai Ciplea (born in 1984 in Baia Mare) has graduated The University of Art and Design from Cluj Napoca, graphics section (2003-2007), and then he got his MA in graphics from the Faculty of Art and Design from Timisoara (2007-2009). His works have been selected by galleries for different expositions like "About Bodies/Despre Corp" – Jecza Gallery, Timisoara (2009), "Ecce Homo" – Jecza Gallery, Timisoara (2011), The International Pastel Biennale in Nowy Sacz, Poland (2013), "Contemporary landmarks – The Identity Cicle" Baia Mare (2014), "Art Safari" Bucharest (2014). The most prestigious distinction awarded to the artist until now is the Grand Prix from The International Pastel Biennale in Nowy Sacz, Poland, in the year 2013. At the moment he is living and working in Baia Mare.