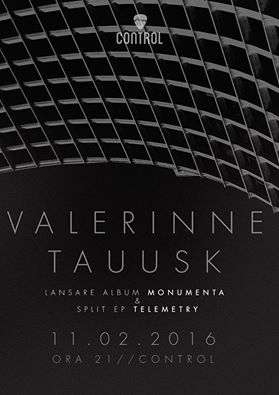 Concert

Valerinne album launch MONUMENTA. Special guest: Tauusk live

Thursday, February 11th, 2016 – 21:00 – post-rock concert
Where
What
Bucharest based band Valerinne came together in early 2012, when Alexandru Das (guitar/soundscapes), Liviu Stoicescu (bass) and Mircea Smarandache (drums), joined efforts in their desire to play instrumental, atmospheric, haunting, loud and emotional music, completed by live visuals.
Valerinne's music takes an organic approach to the post-rock genre.
The compositions are ample and dramatic, almost soundtrack-like and evoke a wide range of mental images. The sound spectrum swings from dreamy and fragile to gloomy walls of noise and harsh brutal droning sound intensity.

The band released its debut album, Kunstformen der Natur, in late 2012. Since then they have embarked on a European tour together with Bucharest ambient/drone band Environments, have shared the stage with Amenra, Environments, Atlantis, Maybeshewill, Tides from Nebula, Our Ceasing Voice, Stephen O'Malley and have played at the 2013 Dunk! Festival.

At the end of 2013 the band released its second album, Arborescent, which thakes the aesthetic of their first release further, yet sounds completely different.

Discography
Kunstformen der natur, 2012
Arborescent, 2013

Upcoming:
Monumenta, 2015
Tauusk is an instrumental ambient/drone/doom band from Romania focused on evoking and exploring ethereal and ominous soundscapes.

Tauusk strives to play around with the power of suggestion. Through sonic ambiguity and general vagueness, the music offers only general guidelines towards basic interpretation, the rest being up to the listener's imagination. Ritual and nature plays an important part in composition, but the same is true for the color and timbre of tones, not through purity, but through texture. Due to the experimental nature of the project, form and structure, like in nature, is ever changing, recorded songs being just frozen facets of existence.

Tauusk formed as a side-project of Razvan Lazea-Postelnicu, bass player in some notable Romanian bands. Songs are, to date, recorded entirely by him, though guest musicians might accompany him in live setups. The concept quickly grew and the debut album - a double album over two hours in length - Refuge, was released in the band's first year of existence. The self-released album saw positive reviews.