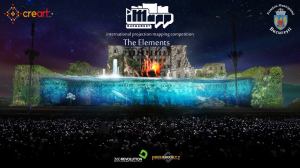 Festival

iMapp Bucharest 2015 + Parov Stelar (live)

Saturday, September 19th – 20:00
Where
Piata Constitutiei (Constitutiei Sq.)

What
What is iMapp Bucharest? It is the kind of event you should be lucky to witness while in Bucharest, as
+ it is one of the biggest video-mapping events in the world
+ video-mapping is taking place on it is on the Palace of Parliament in Bucharest (also known as Casa Poporului, aka the largest building in the world or something like that :)
+ Live Performace Parov Stelar + Suie Paparude
+ IT'S FREE!!
More
What is iMapp Bucharest? One of the biggest video-mapping events in the world, organized by creart – The Center for Creation, Art and Tradition of the City of Bucharest
2015 will see the second edition of iMapp Bucharest coming to life. Here are some quick facts about the success of the first edition. In 2014, Bucharest celebrated 555 years from the first recorded mention of the city. Among the events that were held with this occasion was one of the biggest architectural video mapping shows in the world using the most impressive projection surface in Romania – the facade of the Parliament Palace, the 2nd largest building in the world after Pentagon, USA.
The Parliament Palace façade was deconstructed and reconstructed again from pure light by 5 well known teams of visual artists (4 international and 1 local) selected following an international open call organized 3 months earlier. 104 projectors were used for a 23 000 m2 projection surface, the façade of the palace being a whooping 270 meters wide. Each show had a symbolic length of 5 minutes and 55 seconds. The big prize "The Public's Favorite Show" went to the French team lead by Damien Fontaine. More than 60000 people came to see the shows and, after the event, thousands of pictures and videos were uploaded on social networks and hundreds of news covered it worldwide.
The second edition of iMapp Bucharest will take place on 19th of September, 2015. The venue will be the same, the spectacular facade of The Palace of Parliament. Check out our site in the near future, for more exciting details and updates.
Last year's works:
The Macula (Czech Republic)
SevenZero (Poland)
MaxIn10sity (Hungary)
Les Ateliers Nomad (Romania)
Damien Fontaine (France)
(source: www.imapp.ro)