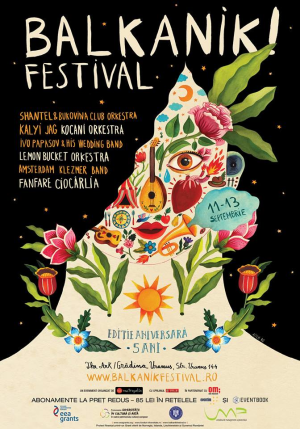 Festival

BalKaniK! #5

Friday, September 11th – 12:00 – music festival in Bucharest
Where
How much
85 LEI
What
Balkanik Festival 2015 takes place for three days, on 11th, 12th and 13th of September, in Bucharest at Uranus Garden.
With a second stage set indoors at The Ark, this year the party will be on-going for 3 days. With over ten thousand people attending last year, around fifteen thousand are expected at the 5th edition.
The handicrafts fair in Balkanik Festival brings together the best traditional artisans from all the regions of the country and various ethnic groups and young plastic artists who aim at carrying the rare and unique traditions forward, in the context of industrialization and globalization.
Painting, photography and sculpture exhibitions play a major role in the mise-en-scene of the festival's locations, Uranus Garden (outdoor) and The Ark (indoor) and the sitting areas are most bohemian and traditional, set up by designers who place the hammocks, hay couches and other unconventional elements, in order to create a magical, unique atmosphere.
The location is easily accessible and travelers can book an accommodation at one of the many local hostels in Bucharest.
Festival Pass / 3 days / 19 euro: Eventbook & eventim
Balkanik Festival is a Metropolis Cultural Association project.
More
Official 2015 line-up:
Among the confirmed bands in the line-up are Shantel and Bukovina Club Orkestra (Germany), Fanfare Ciocârlia (Romania), Kocani Orkestra (Macedonia), Ivo Papasov and his Wedding Band (Bulgaria), Amsterdam Klezmer Band (Netherlands) and Lemon Bucket Orkestra (Canada).
More artists are to be announced in summer, when the curatorial research carried out by the festival's team, in order to find fiddlers and virtuoso traditional musicians in the villages of Romania, comes to an end.
FANFARE CIOCÂRLIA is a 24-legged brass beast whose eastern funk groove has torn up halls and festivals across the planet. Their energy and ingenuity having won them fans from Melbourne to Memphis, Tokyo to Toulouse. Having learnt their craft at the feet of their fathers and grandfathers Fanfare's members proudly approach every concert as a challenge to both entertain audiences and keep the true spirit of Gypsy music alive.
When Fanfare Ciocarlia - the brass orchestra from the "hidden" village of Zece Prajini in north-eastern Romania - take the stage the crowd receive 100% Gypsy music. They have released nine albums, several of which have topped the European World Music Charts. Their radical reinterpretations of popular Western standards - including the James Bond Theme and Duke Ellington's Caravan - show how the Romanian orchestra effortlessly "Gypsify" any music they get their horns on.
IVO PAPASOV AND HIS WEDDING - Ivo Papasov, nicknamed Ibryama, is a Bulgarian clarinetist. He leads the "Ivo Papazov Wedding Band" in performances of jazz-infused Stambolovo music, and is one of the premier creators of the genre known as "wedding band" music in Bulgaria. His performance at Balkanik Festival will be one of the very few occasions you can see him on stage.
In 2005, Papazov has won the Audience Award from the BBC's Radio3 World Music Awards. As a result of the extensive programme of forced nationalization of ethnic minority groups during Bulgaria's socialist rule, Papazov changed his first name to Ivo (adapted from Ibo, short for Ibrahim). He speaks Turkish and comes from Kardzhali, a city close to Bulgaria's Turkish and Greek borders.
KALYI JAG (Romani for "Black Fire") is a Hungarian Romani folk music group.
The group was founded in Budapest by Vlach Roma members who originated from the Szatmár county. It had roots in the Táncház movement. They were named Young Masters of Folk Art in 1979.The first album was released in 1987 and became a major success.
The music is based on traditional Romani music, primarily Vlach Roma music, with some modernization in the interpretations and the group has included instruments as the guitar and the mandolin and even a water can to their line-up.
SHANTEL AND BUCOVINA CLUB ORKESTRA - Stefan Hantel, better known by his stage name Shantel, is a DJ and producer based in Frankfurt, Germany. Shantel released two compilations of his popular DJ night, Bucovina Club, on his own Essay label, which won the Club Global award in the 2006 BBC Radio 3 Awards for World Music. He was one of several DJs to remix recordings of Taraf de Haïdouks and Kočani Orkestar on the Electric Gypsyland compilations from Belgium's Crammed Discs label.
AMSTERDAM KLEZMER BAND aka The Magnificent Seven of Balkan and Klezmer - The Amsterdam Klezmer Band (AKB) is an energetic and poetic stage act that charms international audiences. Their refreshing approach to Klezmer and Balkan music transcends the traditional aspects of this music and results in a very lively mix of Eastern-European sound.
KOCANI ORKESTAR - The band's trademark thundering style soon became very popular: their powerful rhythm section (drummer + four tubas), their passionate soloists, and the sheer funkiness of their beats would lead any audience to break into dance… despite the fact that Koçani Orkestar use many asymetrical rhythms, those 7/8 or 9/8 time signatures sometimes called "Aksak" in traditional Turkish music. Oriental brass bands are a Gypsy specialty throughout the Balkan region, from Serbia to Macedonia. The sound of Oriental brass bands was introduced to larger parts of the Western public by Emir Kusturica's film 'Underground'.
LEMON BUCKET ORKESTRA - is a Canadian self-described "Balkan-Klezmer-Gypsy-Party-Punk-Super Band" formed in 2010 in Toronto.
The Lemon Bucket Orkestra made headlines (such as CNN, CBC, Fox News and CTV), on their way to Romania for a three-week tour of Romania, when they played an impromptu concert on a delayed Air Canada flight. While in Romania, the band opened for Taraf de Haïdouks. On their way back to Canada, the band once again performed aboard a delayed Air Canada flight in Germany, and then in Toronto Pearson International Airport upon arrival.
In 2012, Toronto filmmaker Justin Friesen made a short documentary on the band titled Let's Make Lemonade. The film won Best Documentary and People's choice award in the Air Canada enRoute Film Festival.
Source & more info:balkanikfestival.ro/en/