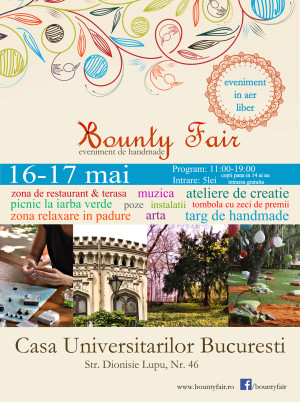 Fair

Bounty Fair - largest handmade fair in Bucharest

Saturday, May 16th, 2015 – 11:00
Where
How much
5 LEI
What
We invite you to Bounty Fair, the biggest Romanian handmade fair in Bucharest, completely outdoor!
You'll also find dozen of workshops for kids and grown-ups, lounge areas, picnic area, board games area, restaurant, music andvery nice people and atmosphere!
Save the Date: weekend of 16-17 May 2015
Address: Dionisie Lupu, 46 Street, at Casa Universitarilor ( in the center of the city, near Piata Romana, click on the place's link above to view the map).
Opening hours: 11:00 am- 7:00 pm
Entrance fee: 5 lei ( 1 euro/person)
The organizers guarantee you'll be amazed by the talent of Romanian artists and the taste of Romanian food :) Don't miss it!
More details: Facebook event