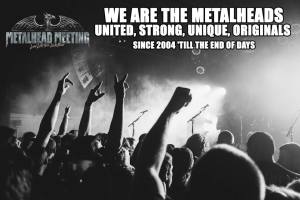 Festival

Metalhead Meeting 2015

Thursday, June 11th, 2015 – 11:00 – rock music festival in Bucharest
Where
What
Loud like hell, live as blood!
Metalhead Meeting Festival aims to be the biggest summer rock festival in Bucharest! Four days of concerts and events and over 30,000 participants.
SATYRICON, Dark Funeral, Bloodbath, Turisas, Amorphis, The Sirens, Triptykon, Heidevolk. Cruachan, Wind Rose, Primordial, Bucovina, Lacrimas Profundere, Antimatter, Cargo, Demonical, Centinex, Dew Scented, KISS Forever, Arcanorum Astrum, Negura Bunget are just some of the names confirmed at the four day festival, METALHEAD Meeting wich will take place on 11, 12, 13 and 14 of June 2015 in Bucharest, Romania at Cotroceni Open Air close to the center of the city in a 22 000 sqm venue.
FOR FOREIGN GUESTS, please buy electronic tickets using Paypal or Card here: metalhead.ro/tickets
Camping is Free, you just have to checkin here: metalhead.ro/camping
Beer will cost around 1 - 1.2 euros
Photo credits & source: METALHEAD Meeting