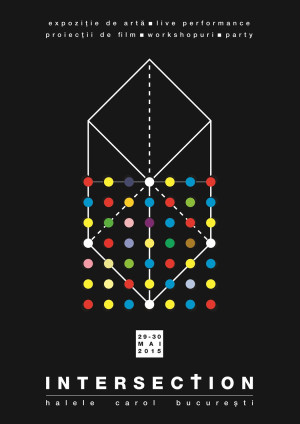 Festival

INTERSECTION

Friday, May 29th – 15:00 – Urban Culture
Where
What
From May 29th through May 30th, 2015, Work in Progress and Thereart.ro present a new contemporary art and urban culture event, INTERSECTION, hosted by Halele Carol, Bucharest (1 Constantin Istrati, near Carol Park).
Art exhibition –installations, sculptures, prints with works by Romanian artists
Live performances and contemporary dance
Special screenings by NexT Film Festival
2 nights of DJ sets and visuals
Free entrance: Friday / Saturday (during the film screenings and workshops)
Tickets for Saturday party: 25 lei< 00:00 > 30 lei
Access at the event: +18.
More
The event will focus on the concept of intersection, revealing how, within an unconventional space, various art forms can communicate and creatively enrich together the space with different meanings that the viewer is invited to discover and connect the works with the architecture of the building, its context, with sound and motion.
The event will include a contemporary art exhibition with installations, sculptures and printed works by artists from different fields who will interpret the theme of the event in their own vision: Aitch, Bast, Raluca Băraru, Lucian Baraitaru, Alina Bohoru, Otilia Cadar, Mihai Chiţu, Mimi Ciora, Liviu Coman, Amalia Dulhan, Dragoș-Radu Dumitrescu, Victor Fota, Loreta Isac, Kadna, Horaţiu Lazăr, Cristina Matei, Oliver Merce, Ileana Oancea, Cătălin Oancea, Florin Pantilimon, Mihaela Paraschivu, Pisica Pătrată, Obie Platon, Mircea Popescu, Lea Rasovszky, Saddo, Serebe, Diana Stanciu/ Ignissa, Ramona Şlug, Sorina Vazelina. The works will be printed with the support of THE PLOT.
The event will also feature live performances and a fusion between contemporary dance and bboying by FREAKQUENCY, a performance by Franke and NTH, Drum'n'Fire and more, and also workshops of screen printing by Librăria Jumătatea Plină and a workshop by STORYSCAPES, the first Romanian association focusing on transmedia storytelling and interactive narratives.
On Friday and Saturday, May 29th-30th, NexT Film Festival will present a special selection of Romanian and international films from the past editions of the festival: "Endemic's Greed" (d. Natalia Dziedzic, Poland, 2014), an animated story about primal desires; the new short film by Tudor Cristian Jurgiu – "In which the protagonist hides and then has an unexpected encounter" (2015), "Baby Nap", a trip into the mind's hidden playground by Paul Mureșan, "Superbia" (2014) directed by Martti Helde, "The sound of the stars dazes me" (2012) by Teddy Williams, winner of "Andrei Toncu" Award for the Best Soundtrack at NexT 2014, or "Autism" (d. Alexandru Petru Badeliță, Romania, 2013), the story of a student who is in his last year of film school and is searching for a job.
Music Line-up May 29, 30:
DJs Ada Kaleh (RO), Vlad Caia (RO), Alexandra (RO), Miss I (RO), Resoe (DK), Posh (RO), Paul Popa (RO), Dragoş Rusu (RO), FILIPP (RO), EllieN (RO), Vivi. St (RO), Ciresharii (RO), Lauvon (RO), Luchian Victor (RO), Lisière Collectif (RO) (more TBA).
On Saturday, May 30th, the party will take place on two stages simultaneously, with visuals and a special installation by 360view during the event.
Source: www.facebook.com/events/1385092775151419