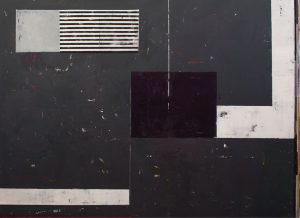 Art Show

The Right Angle Policy

Friday, April 24th, 2015 – 19:00
Where
What
The Right Angle Policy
Special event NAG#9 @ MNAC Annex
Artist: Maxim Liulca
Curator: Silviu Pădurariu
Opening: Friday 24th of April 2015, 19h00
The exhibition will be open between: 24.04 - 31.05.2015
Visit program: Thursday - Sunday, 10:00 – 18:00
More
The Right Angle stands for aesthetic autonomy.Aesthetic freedom is the absence of representational constraint.
The Right Angle ideology brings the three visible dimensions onto a single surface, in a simultaneous coexistence. The right angle does not archive or recover. Memory, history and inheritance are juxtaposed and cancelled out. There is no past or identitary pressure.
The right angle is both ascending and horizontal. Its doctrine aborts the representation, reproduction and recreation of the visible. The right angle is devoid of subject or emotion. No religion, no mysticism, no ritual. Only linear gestures and expressions of a known anguish, all emerging from a continuous starting point. Each shape is the first shape.
Maxim Liulca uses the appearance of rectangular geometry to order the concerns of an individual absent from the mechanics of social policies, an individual aspiring towards emptiness and detachment from the common, the familiar. He leaves the territory of the mentality of a world dissolved in the new paradigms of globalisation. The new ideas and philosophies are a spots and surfaces abstractly intersected and overlapped, linearly fixed in a minimalist note. But the geometry is not feature of substance, but of atmosphere. The constructivist substance explores the style of the interior constructs of a digitised and technologised, desecrated reality. Formally, we are witnessing the neutral representation in a plastic manner of the design of spots and shades generated by ideology, politics, society and history on the collective memory.
The Right Angle Policy marks an important moment in the evolution of Maxim Liulca and brings together works created and exhibited during the last four years. The visual formula defines a lucid abstraction, deprived of expression and emotion, controlled by elementary euclidian laws. This type of post-modernist abstractionism from 2010 onwards relinquishes the spell of spirituality and mysticism specific to the suprematism of the historical avant-garde or to the purification of the American abstract expressionism. What in the first part of the 20th century could be defined as the aesthetic of pure shapes can now, at the beginning of the 21st century, be reinterpreted by the laws of an aesthetic of voided shapes. Transcension is abstraction. The mysticism of the shape/colour relation has deviated to political interlinking strategies.
Maxim Liulca's Spots also bring forward a content critical towards the trend of figurative representation, as well as towards the curatorial discourse around it. Under its auspices are the motivations of the curatorial exercise camouflaged as a political manifesto in the form of a potential fragment of doctrine, the Right Angle policy.
Source: noapteagaleriilor.ro