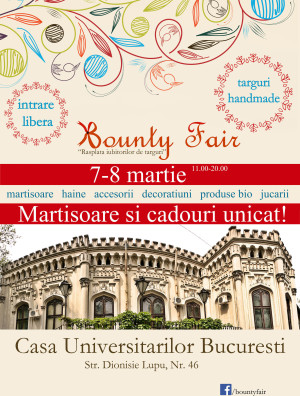 Fair

Bounty Fair celebrates Women's Day in Bucharest!

Saturday, March 7th, 2015 – 11:00
Where
What
Bounty Fair is waiting for you in the centre of the city, aiming to make you fall in love with the Romanian artists. You'll find all sorts of handmade goods, made with care, love and passion for beauty. Pick your favourite from a vast category of products: clothes, home decor objects, jewellery, natural cosmetics, natural sweets and jams, toys for the little ones & a lot of ingenious stuff!
Also, the location's restaurant will be open during the whole time with delicious food and cakes! Price range is about 1-5 Euros/meal. And the food is WOW! :)
March 7th – March 8th, 2015
from 11.00am to 8.00 pm
The entrance is free!
For map and directions see above the place's link.
Celebrate the beginning of Spring with some the most talented Romanian artisans at Bounty Fair!