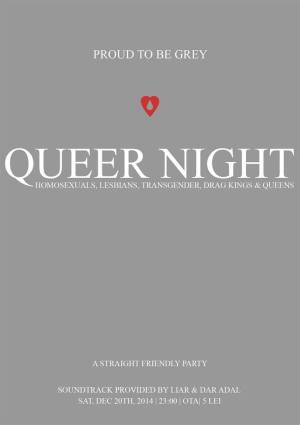 Party

QUEER♥NIGHT

Saturday, December 20th, 2014 – 23:00 – Proud to be Grey!
Where
How much
5 LEI
What
Proud to be Grey!
Homosexuals, Lesbians, Transgender, Drag Kings & Queens, let's hot up and have some XXX-mess together in Bucharest.
QUEER♥NIGHT Party @ Ota
Saturday, December 20; Entrance fee 5 lei; be there at 23:00
Line-up:
LIAR - soundcloud.com/liarinth
DAR ADAL - soundcloud.com/radu-popa-3
Dress code: #transparentheart
Remember: You are the miracle!
A straight friendly party