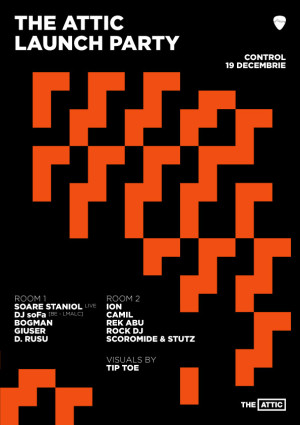 Party

THE ATTIC LAUNCH PARTY

Friday, December 19th, 2014 – 22:00
Where
What
The Attic Magazine is a new online music magazine, which focuses on a wide variety of music genres and investigates different cultures from all around the world.
The magazine narrates empirical listening experiences from different collaborators, through reports, features and interviews with various musicians and bands, music reviews and audio podcasts. The music approach has no typical boundaries of genre, style, time or space, but admits its importance and relevance. They question everything and try to pursue the essence of music, which they believe is timeless and continues to resonate regardless of its release date.
More
The Attic enthusiastically opens its doors on December 19, with a party showcasing some of the best music preachers from Bucharest these days (and those days as well), a really cool Romanian band, which will perform a special act, and one of the best DJs and selectors in Brussels.
Join The Attic @ Control Club
Be there at 22:00
ROOM 1:
SOARE STANIOL (live)
DJ soFa (La Madame Avec le Chien) (BE)
Bogman
Giuser
D. Rusu
ROOM 2:
ION D. (Future Nuggets / Outernational Academy)
Camil (Future Nuggets)
Rock DJ
Rek Abu (Batiscaf Radio)
Stutz & Scoromide (Brand New Cadillac)
video mavericks: Tiptoe
https://www.facebook.com/events/602410489885557/