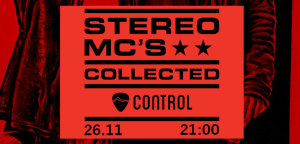 Concert

STEREO MCS live!

Wednesday, November 26th, 2014 – 21:00 – Full Connected Show + Collected Album Release in Bucharest
Where
How much
60 LEI
What
STEREO MCS live! @ Control Club
Be there at 21:00; Entrance fee 60 lei
The legendary Stereo MCs will perform their classic breakthrough album "Connected" in its entirety for the very first time and showcase songs from their forthcoming Collected Album CD box released on Universal Rec worldwide, which includes 8 albums, remixes unreleased and new songs.
With one of the best live dance music shows on the planet, the mighty Stereo MCs have been leaving their mark on the landscape of Pop and Dance Music for over 20 years.
Often labeled as one of the UK's most iconic bands they have toured with U2, Peter Gabriel, Happy Mondays, Lenny Kravitz and many more. An enormous commercial success, the band took the '90s and 2000's by storm with their brand of Dance and Hip Hop that helped change the face of the music scene in Europe. The Stereo Mcs have released 9 studio albums, 1 compilation album, had several top hits such as Connected, Elevate my mind, Step It Up, Ground Level, Creation, Lost in Music, Deep down and dirty, won awards, sold out world tours and sold in excess millions of albums worldwide.
The line-up of the new Stereo MCs show for the 2014 tour is: Rob Birch vocals, Nick Hallam electronics, Own If – drums and Cath Coffey + Aina Westlye background vocals.
The Stereos are exceptions to every rule – the rap band rock fans could dig, the dance act it was cool for indie fans to groove to, sought-after as remixers, producers or collaborators by everyone from the U2 to Madonna (Frozen). In addition they helped bring artists like Finley Quaye and Jurassic 5 to worldwide attention by releasing their music on their Natural Response label.
More: http://www.stereomcs.com/