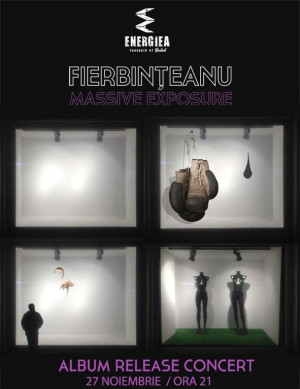 Concert

FIERBINTEANU live!

Thursday, November 27th – 21:00
Where
What
FIERBINŢEANU - MASSIVE EXPOSURE - album release concert @ ENERGIEA
On November 27, Be there at 21:00.
Fierbinteanu is an experimental music duo, active in Bucharest/Romania.
The group consists of Gabriela Fierbinteanu (vocals) and Cristian Fierbinteanu (computer, bass, vocals). Their music contains elements of pop, electronica, psychedelic, noise, ambient and sound collage.
Gabriela and Cristian Fierbinteanu have performed in clubs, galleries and online radio stations in Bucharest and have played live in Berlin (Konzerthaus) and Prague. They opened for or featured along Romanian, American, English, German, French and Czech artists.(Source: http://www.fierbinteanu.com).