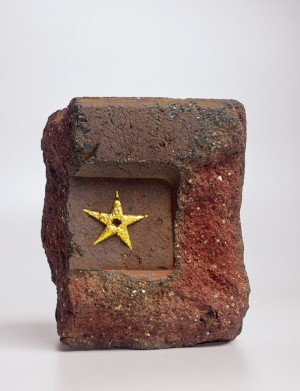 Art Show

Zoltán Béla - INSTALLATION

Wednesday, October 29th, 2014 – 19:00
Where
What
Zoltán Béla - INSTALLATION @ MNAC Annex, 3rd floor
Curator: Adriana Oprea
Exhibition design: NUCA Studio
Opening: Wednesday, October 29th 2014, 19.00
Visiting hours: Wednesday – Sunday / 10.00 – 18.00
Free entrance
Exhibition period: October 30th 2014 – February 15th 2015.
More
"Installation", Zoltán Béla's painting and object exhibition, is an art cabinet staged in a concrete room.
An exhibiting situation which produces several dislocations:
First, Anexa MNAC has formally accommodated until now architecture, installation and object, but not painting.
Second, the production of Zoltán Béla is that of an artist who has previously been known mostly as a painter. He is part of the younger generation of painters who have left their mark on the relatively short "return to painting" of recent Romanian art. The fact that he still prefers painting after the pictorial boom of the 2000s has calmed down shows that, along with few others, he's in it for the long haul.
Third, Zoltán Béla's painting has encouraged references to the aesthetics of the trace, evanescence, memory, interiority or the metaphysics of the fragment, being remarked by its technicality and virtuosity of execution.
In order to shift and dislocate these working terms, Zoltán Béla's exhibition poses a formal issue, the installation, not just of paintings, but also of several objects in an architectural frame which is itself installed in a given space.
The forest of pedestals required by the positioning of the objects in space, retreating and advancing volumes, becomes the horizontal continuum between the two pillars which cuts the air and slithers optically. While the vertical support required by paintings becomes a wall on the previously existing wall, like a screen ready to receive the image on the dark background of a cinema hall.
The scenic box thus created leaves alone the initial, surrounding space of the building which receives it as it is, brutalized, precarious and irregular.
The incongruence of display and space moves the representation out of the area of the above mentioned (pre-)conceptions, not by negating them but by dislocating to a certain extent their reception.
Organised by: The National Museum of Contemporary Art, Bucharest - MNAC
With the support of: The Romanian Association of Contemporary Art.
Image: Zoltán Béla, Relic, 2013.
Photo credit: Dan Vezentan, New Folder Studio.
Graphic concept and DTP: Florin Darie.
Source: www.facebook.com/events/460105390795256/