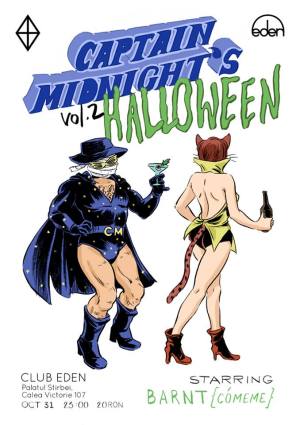 Party

Captain Midnight's Halloween

Friday, October 31th, 2014 – 23:00
Where
How much
20 LEI
What
Captain Midnight's Halloween Party @ Eden Club
Starring:
Barnt [DE] www.soundcloud.com/barntofmagazine
Straight from the world's biggest party locations - among the most recent ones, Burning Man and ADE - Cómeme's Barnt arrives in Bucharest this Friday Halloween.
There will be wearable surprises at the door. Be there at 23:00.
Entrance fee: 20 Ron, which is around 4 Euros and a half.
More
What is Captain Midnight?
Besides being a back to back performance between the two people behind Origami Sound, Captain Midnight is your guide to all those musical things you're unfamiliar with but instinctively like.
He eases them in with his own mannerisms, which are sometimes weird, sometimes too out there, sometimes pretentious, but he does it all with honesty and in good faith.
Captain Midnight Vol.2 - "Halloween" is brought to you by the Origami Sound institution of electronic music, the unmistakable visual touch of Vidra and Club EDEN.
Source: https://www.facebook.com/events/708653929218816/