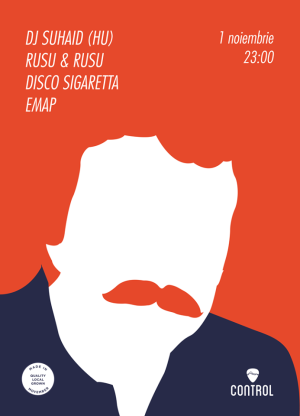 Party

MOVEMBER

Saturday, November 1th, 2014 – 23:00
Where
What
This is a party to mark the start of the MOVEMBER season.
Movember is an annual event involving the growing of moustaches during the month of November to raise awareness of men's health issues, such as prostate cancer and other male cancers, and associated charities.
The goal of Movember is to "change the face of men's health."
This Saturday, November 1st, go party in Control Club with a clean shaven face.
Be there at 23:00
More
Line-up:
Berlin Hall: DJ SUHAID (Hungary) + RUSU & RUSU
Entrance hall: EMAP + DISCO SIGARETTA
DJ Suhaid from Budapest plays records from creepy transylvanian psych to early acid and beyond. Take disco, house, funk, world music and everything that's party wise, and for sure he's been there.
Suhaid has already invaded Paris, London, Manchester, Dublin, Brussels, Istanbul, Ljubljana, Vienna, Graz, Innsbruck, Poznan, Novi Sad, Bratislava, Timisoara, Petrcane and more. But nevertheless he keeps expansion steady with DJbags full of heavy bangers, unheard of rarities, and music that is yet to be made.