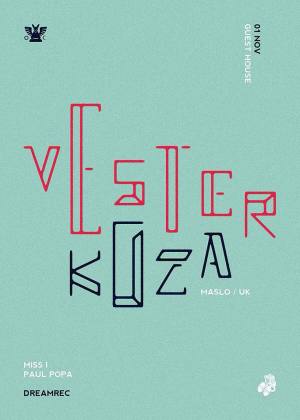 Party

Vester Koza live set!

Saturday, November 1th, 2014 – 23:00
Where
How much
20 LEI
What
MASCHINE pres. Vester Koza (Maslo)UK, live set @ Guest House
Be there at: 22:30; entrance fee: 20 lei
Vester Koza likes to do things himself. It is a rare thing for someone like him to have made the impact off the back of just a few of EPs, keeping things totally in own control. But so singular is the sound of those EPs on his own label - deep, hypnotic, full of space and made from unfamiliar textures - that press and dancers alike have all taken note.
Testament to the uniqueness of the Londoner's fusion of spacious dub with kinked rhythm and moody atmosphere with bleak ambiance is the fact that his music has managed to unite a very diverse selection of DJs from techno titans to house heroes via and many micro scene leaders in between, all have fallen under the refreshing spell of this impressive new talent.
Coming from a house and techno background but with a fresh perspective that places equal importance on sound design, restraint and patience, Koza makes subtle music that makes you come to it rather than music that makes a big grab for your attention. As a DJ, too, he has the same careful approach; one that places importance on immutability rather than immediacy, and for that reason is in a class of his own.
Local support:
Miss I
Paul Popa