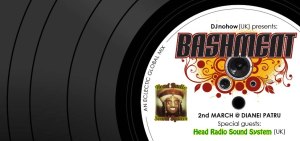 Concert

BASHMENT feat: Head Radio Sound System

Saturday, March 2th, 2013 – 21:00 – DJ danceable spins on vinyl
Where
What
DJ nohow presents the 4th event at Dianei Patru spinning 2 hours of old & new 7" tunes, followed by Head Radio Sound System from the UK, for 1 night only.
More
Previously spent time in the US and the UK, now living in Romania, DJ nohow began BASHMENT in November of 2012, as an antidote to the usual pop fare. Eclectic, unpredictable, old and new but definitely danceable and only on vinyl, DJ nohow spins all genres from the 50s to the latest.

Head Radio is a semimonthly podcast recorded by Jonh and Lien, two disgruntled D.J.s somewhere in the North of England. Bored with the current state of music and radio broadcasting in general, we wanted to record short 90 minute radio shows which can be downloaded, stored on your phone or iPod and listened to at your own convenience. The show reflects our love of music, which although has strong roots in the history of dance music, encompasses most genres to bring you lost treasures and unheard classics from around the globe.

Both John and Lien have been serious collectors of music all their lives. Lien started creating extended remixes of songs as a teenager. After hearing "The Adventures of Grandmaster Flash on the Wheels of Steel" in 1981, he bought his first pair of Technics SL1200 turntables and a mixer and started playing records in clubs around the North of England.

In 1986, he was one of the first Deejays in Yorkshire to play House Music at Japanese Whispers in Barnsley and brought many stars to the club including Darryl Pandy and Farly 'Jackmaster' Funk. Lien has continued to deejay on the U.K. underground scene playing at a wide variety of clubs and parties including a residency at The Warehouse in Leeds and a slot on Dream FM, a notorious pirate station.

John has also DJed since the 1980s. In 1992, he moved to Liverpool and opened "Icon" at the city's famous 051 Club, which was an instant success, attracting clubbers from all over the country and it helped put the spotlight firmly on Liverpool's club scene. It was voted Britain's best club in July of that year by DJ Magazine and served as a blueprint for the super-clubs such as Cream and Manumission.

Later in 1993, John started Voodoo, an underground club night also in Liverpool, that has frequently changed venue around the city over the years, and is still in existence today. John spent most of the next decade living in New York City and working at the world famous Chung King Recording Studios, where some of the greatest music to come out of New York in the past 20 years was produced.

Free Entry, No reservations. A night for true music lovers.