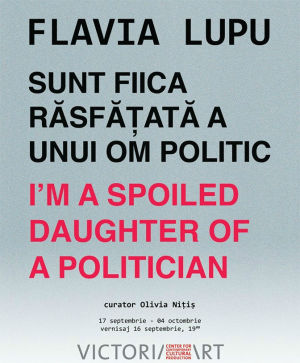 Art Show

SPOILED DAUGHTER OF A POLITICIAN

Tuesday, September 16th, 2014 – 19:00
Where
What
Victoria Art Center invites you to the opening of the exhibition I'M A SPOILED DAUGHTER OF A POLITICIAN of the artist Flavia Lupu on Tuesday, September 16 2014.
The exhibition is curated by Olivia Nițiș.
September 16 - October 4, 2014
Opening: Tuesday, September 16 2014, 19:00
Free entrance
More
I'm a Spoiled Daughter of a Politician is the result of a project that had its first episode – Upper Class Supervised – presented at Calina Gallery in Timișoara.
The self referential project illustrates not only the status and the identities assumed at the border between public and private on the background of political realities that are implicitly accessible for the artist, but also the process of assuming a discourse on power relations between the two spheres in the context of permanent transfers and political influences on private life.
Being the daughter of a politician, deputy of Constanța, Flavia Lupu places and interogates her identity confonted with ruptures and tensions between the artistic and political, private and public life, familial and social pressures.The exhibition assumes the trenchant debates on the construction of identity in a particular context, where political art interest arises through direct experience and the internalization of social and political control mechanism.
The artist's proactive approach is aimed at the confrontation with her own biography, tabloid narratives, the social and political mirror of the world she is a part of with the purpose of having viewers reading different layers that are based on the attempt of a difficult personal harmonization and on exposing a symptomatic local political segment.
Flavia Lupu pulls up the curtain scrolling on a real scene where the transfer call doesn't come from the perspective of a woman artist who fakes a context following a model visited many times in the international art medium, but from the perspective of an artist directly connected to the local political reality and over whom this reality reflects with the riskiest effects.
The exhibition film is not inspired by real events and characters, but reveals real characters and events. Artistic courage and / or strategy, regardless of how this process is received, the access to such material and responsable use of work rigorously controlled visually is a complicated and subtle moment articulating a document clearly non-negligible in the context of contemporary artistic production.
"The Last Supper" is an event that changes the cultural iconography in architectural thinking, a concluding piece for the self-reflexive passage, representing a political paradigm whose iconographic purpose tensions the relationship between gender and power, artificial and genuine. An actual framework without actors and photoshop beautification. The more relevant.
https://www.facebook.com/events/1458372937718349/