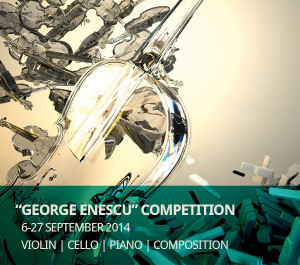 Festival

George Enescu International Competition

Saturday, September 6th, 2014 – 19:00
Where
What
The 14th edition of the George Enescu International Competition, the only classical music competition organized by Romania to attain recognition within the international musical world, will take place between 6th and 27th of September, 2014, at the The Romanian Athenaeum and The National Music University in Bucharest. The Competition has four sections: Violin, Cello, Piano and Composition.
Intended as a natural extension of the George Enescu Festival, the most important international cultural event organized by Romania and a true national cultural brand, George Enescu International Competition brings back into the limelight the values George Enescu himself, the only Romanian composer whose music belongs to the universal cultural heritage, believed in - creativity, originality and generosity.
Over 200 contestants from 5 continents have joined the 14th Edition of the George Enescu International Competition.
The contestants registered for this edition of the George Enescu International Competition are from 36 countries: Romania (28 contestants), Russia (25), South Korea (21), Japan (17), USA (9), France (8), Ukraine (7), Germany (6), China (4), Canada (4), Greece (4), Great Britain (3), Italy (3), Estonia (3), Poland (2), Taiwan (2), Republic of Moldova (2), Latvia (2), Belarus (2), Bulgaria (2), and Switzerland, Azerbaijan, Kazakhstan, Serbia, Israel, Belgium, Lithuania, Norway, Georgia, Spain, Brazil, Venezuela, Mexico, Argentina, Australia, Austria (with one entrant each).
The current edition of Enescu Competition offers free admission to its concerts and recitals based upon online registration and seats availability.
Please see the REGISTRATION FORM for free admission seat reservation, as well as the complete PROGRAMME of the events, HERE.
Source: www.festivalenescu.ro/en/