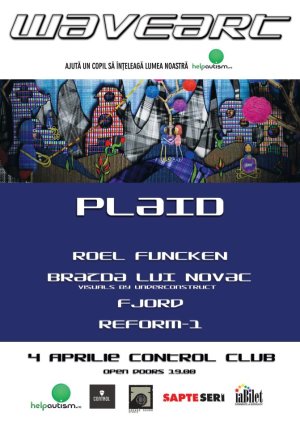 Concert

WAVEART #1 - PLAID, ROEL FUNCKEN, BRAZDA LUI NOVAC, FJORD, REFORM-1

Thursday, April 4th, 2013 – 20:00 – Electronic music concert
Where
How much
30 LEI
What
WAVEART is a concept event that will bring electronic music in concert.
19.00 – open doors
20.00 - 21.00 – REFORM-1
21.00 – 22.00 - FJORD
22.00 – 23.00 - BRAZDA LUI NOVAC
23.00 – 24.00 - ROEL FUNCKEN
24.00 – PLAID
Visuals: UNDERCONSTRUCT for BLN and SETSUNA for FJORD and REFORM-1
More
PLAID (UK)
Plaid is a London-based British electronic music duo comprising Andy Turner and Ed Handley whose sound is characterized by many reviewers as post-techno. They were founding members of The Black Dog and used many other names, such as Atypic (Andy Turner) and Balil (Ed Handley), before settling on Plaid. They have collaborated with female singers Mara Carlyle,Nicolette and Björk, and have released records on the labels Clear, Peacefrog, Black Dog Productions, and Warp Records (along with Trent Reznor's label Nothing Records).
ROEL FUNCKEN (NL)
BRAZDA LUI NOVAC (RO)
Started in 1997 as a hobby, BRAZDA LUI NOVAC is now Romanian musician Victor Popescu's electronic music project. Having spent his childhood in a district called "Brazda Lui Novac" (tr. "the furrow of Novac"), Victor found it fitting to give the same name to what he musically creates now. BRAZDA LUI NOVAC's sound stretches from melodic synth lines with complex beats to collages of industrial and electro, sometimes encompassing subtle elements of shoegaze.
UNDERCONSTRUCT (RO)
www.valichincisan.ro
www.tvcrash.com