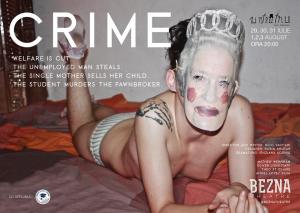 Theatre

"CRIME" - BÉZNĂ Theatre London

Tuesday, July 29th, 2014 – 20:00
Where
How much
30 LEI
What
BÉZNĂ Theatre London @ UNTEATRU, Bucharest; July 29 – August 3; 20:00
Presents:
"Crime"
Director and Writer – Nico Vaccari
Producer – Sînziana Koenig
Costumes– Robin Soutar
Design – Alex Hopkins
Distribution:
Milton Friedman/Single mother – Oliver Longstaff Milton
The Child/Old mother – Angel Lopez-Silva
The Consumer/the loan shark/the Unemployed – Theo St. Claire
The Student – Mathew Wernham
As we enter the auditorium there is a sign: TONIGHT A CRIME WILL BE COMMITTED.

An American man then tells us about The Capitalist System and How It Works for Everyone and how the minimum wage is an illusion and serves no purpose and does no good. source: "Political theatre at it's best" by Philip Herbert
BÉZNĂ Theatre is a London-based international theatre company dedicated to social change.