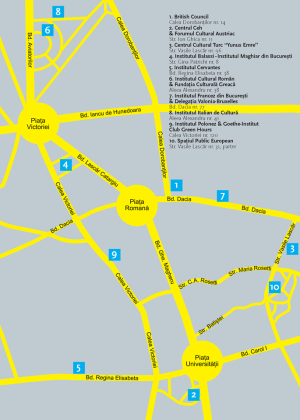 Festival

Bucharest Cultural Institutes Night 2014 – 8th Edition

Friday, June 20th – 00:00
Where
various locations

What
Bucharest Cultural Institutes Night 2014 – 8th Edition
The 8th edition of the white night of the cultural institutes in Bucharest will deliver on Friday, the 20th of June, an eclectic event gathering music, visual arts, art performances, workshops, film screenings, dance, contemporary poetry and more.
Take the cultural pulse of Bucharest this night, your travel experience will become richer!
Complete Festival Program in English:
Balassi Institute – Hungarian Institute of Bucharest (8 Gina Patrichi St, Bucharest)
starting 4 pm hand-made and goodies fair
5 pm – creative workshop for children (traditional music instruments with stories and songs) and for adults (held by the sculptor Kolumbán-Antal József)
6.30 pm – Art show ending Kolumbán-Antal József: Urban Stories
8 pm – Improvisation performance with Szűcs Péter (clarinet), Gulyás Anna (contemporary dance)
10 pm - Concert Szászcsávás Band
11.55 pm: Quiz + prizes
+ Midnight Gulyás
1 am – Documentary screening "Songs of Life" / "Életek éneke"
ROMANIAN CULTURAL INSTITUTE (38 Aleea Alexandru, Bucharest)
6.30 pm – creative children workshop coordinated by Ana-Maria Gălețeanu and Octav Ungureanu.

7 pm – short film screening and talks - "O lume nouă" (A new world") directed by Luzia Pârvu, screenplay Toma Peiu
8.30 pm – Greek dance with Asteria company of Greek Union in Bucharest
9 pm - Chill Pill – contemporary poetry, experimental music and multimedia projects, with Bandesnaci (Vladimir Coman-Popescu ‒ electronic music producer, sound designer and live performer) ‒ live electro dub / controllerism, Claudiu Komartin (poet, translator, editor and performer) ‒ poetry / spoken word / voice FX, Miriam Toma (piano player and graphic designer) ‒ keys, Alina Daniela Nicu (graphic designer) ‒ live drawing, Delia Andrieș (visual artist) ‒ voice / voice FX, Sorin Despot (poet and journalist) ‒ poetry.

11 pm - short films screening Cannes – Romanian Short Waves 2014
Cervantes Insitute (38 REgina Elisabeta Blvd., Bucharest)
7 pm – Spanish and Latin American music concert, as well as international with Clasic N Roll orchestra
8.15 pm – Film screening "Los Muertos Van de Prisa" (Spain, 2009, 104 minutes) - comedy
9.30 pm – Guitars Recital: "Guitarra, dímelo tú" – Maxim Belciug
11 pm : "Madrid en Corto" – Spanish short films screening
Polish Institute and Goethe-Institut
8 pm – jazz concert Wacław Zimpel Quartet @ Green Hours
French Institute and Valonia-Bruxelles Delegation
6 pm – chamber orchestra concert Cristian OROȘEANU
6.30 pm – children reading and music
7.30 - Allegria Quartet concert with piano player Silvia Neamțu
8.30 – jazz concert - Jan Rzewski, saxophone, with Emmanuel Louis, quitar
9.30 – French songs concert - D'JAYAN band
11 pm – electronic music DJ set
Czech Centre and Austrian Cultural Forum
7.30 pm – 1 am – sensorial experiences in the dark, workshop and art interventions, light installation with Czech lamps, living statues impersonating characters from the Czech culture, live video screenings, ice hockey, Austrian sweets, Czech beer and much more!
from 6 pm to midnight: screening with the most recent cinema adaptations of Shakespeare plays – "Coriolanus" (2011, directed by Ralph Fiennes), "The TEmpest" (2010, directed by Julie Taymor), "Romeo and Juliette" (2013, directed by Carlo Carlei);
Theatre, Elizabethan music, games from the Shakespearian period, treasure hunt
IELTS examiners meeting;
Interactive activities in English for children and adults
Turkish Cultural Centre "Yunus Emre" (96 Vasile Lascar St., Bucharest)
Turkish language courses, artistic workshops, plays, concert and film, together with coffee and culinary goodies
5 pm – 6 pm – Turkish language class
6 pm – 8 pm – Art workshop "EBRU" (water painting)
6 pm – 8 pm – Plays from Nastratin Hogea writings
8 pm – 8.30 pm – Oriental classical music concert performed by "Anton Pann" group
9 pm – 10.30 pm – Film screening "My father and my son"
6 pm- 8pm – About Europe in images, quizzes and games
8 pm - Aud Band concert
10.15 pm – Film screening "La grande bellezza"
1 am – Film screening "Le Havre"