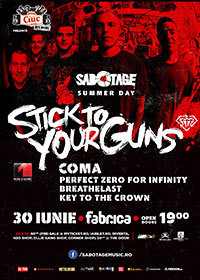 Concert

Sabotage Summer Day #1

Monday, June 30th – 19:00
Where
How much
50 LEI
What
Sabotage Summer Day presented by Ciuc Premium @ Fabrica Club
On June 30, SABOTAGE invites you to celebrate alternative music in Bucharest.
Unleash the rebel in you! be there at 19:00
SABOTAGE is a new platform dedicated to alternative music that aims to become a "bridge" between different genres of music such as punk and hardcore, ska and reggae, hip hop, rock or metal, and a meeting point for fans of these styles: punks, rockers, rappers, skaters, bikers, rebels and non-conformists.
The essence of SABOTAGE: music and lyrics with a message and, last but not least, ATTITUDE!
Sabotage Summer Day #1 edition line-up:
Stick to Your Guns, (CA) hardcore
COMA (RO) rock alternative metal
Perfect Zero for Infinity (RO) post-hardcore, punk
Breathelast (RO) post-hardcore
Key to the Crown (RO) metalcore
Tickets:
40 lei online www.MyTicket.ro
50 lei at the venue