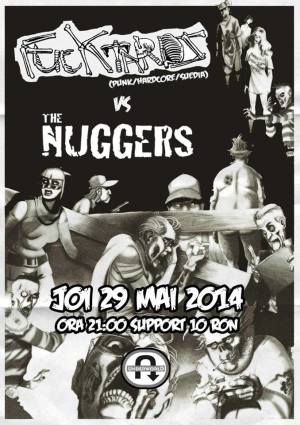 Concert

FUCKTARDS vs The NUGGERS!

Thursday, May 29th, 2014 – 21:00
Where
How much
10 LEI
What
Punk-rock concert in Bucharest @ Underworld
May 29, 21:00
Line-up:
Fucktards is a Punk/Rock/Hardcore band from Hisingen, Gothenburg.
Fucktards was formed in summer of 2011 in Gothenburg, Sweden. Influenced by bands like Black Flag, Circle Jerks and Bad Brains, the goal was to play really edgy punk/hardcore music, but with the sharp guitar licks from the rock'n'roll scene.
Music: https://soundcloud.com/fucktards
The NUGGERS are a garage punk rock n' roll 5-piece from Bucharest, Romania.
They play raw, fast songs about booze, women and nonsense. They formed in 2010.
They have an E.P out on Ghost Highway Records and a song released on the Future Nuggets compilation.
https://www.facebook.com/pages/The-Nuggers
Source:https://www.facebook.com/events/1513328132228753/