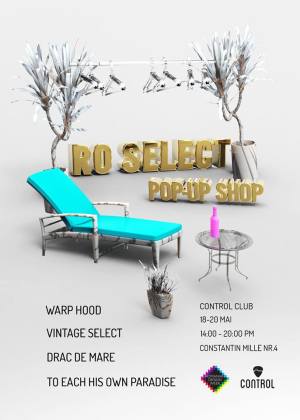 Fair

Ro Select Pop-Up Shop!

Sunday, May 18th, 2014 – 14:00
Where
What
Ro Select is proud to showcase fresh talent during Romanian Design Week; bringing four young fashion labels from the main exhibition's spotlights to a three-day pop-up shop @ Control, Bucharest
TO EACH HIS OWN PARADISE
To each his own Paradise is Katia Guzun's playground where limited editions of handcrafted garments are created out of daily revelations, with the help of carefully chosen natural fabrics, intricate cuts and hidden surprises. All unique and sensitive, just like the moments we pass through.
WARP HOOD
Besides her collabs as a musician and new media artist, Anca Stirbacu has been putting a lot of energy into Warp Hood, her personal clothing label which combines 3D designs with smart and sporty garments.
DRAC DE MARE
Drac de Mare is a collaboration between Diana Bobina and Katia Guzun, designers that are currently living and working in Bucharest, Romania. They approach fashion in a sculptural and graphical way, using the body as a canvas, either to hide or to express one's personality.
VINTAGE SELECT
Ro Select is a platform that gathers young & fresh Romanian designers. - See more at: http://roselect.ro/
May 18 to May 20 @ Control; 14:00 – 20:00