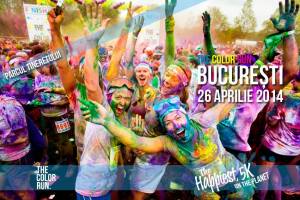 Party

The Color Run Romania 2014

Saturday, April 26th – 16:00
Where
How much
95 LEI
What
​Be Healthy. Be Happy. Be You.
The Color Run™ comes in ROMANIA in 2014!! @ Bucharest
Saturday April 26, join the Color Run Romania Party in Tineretului Park Bucharest from 16:00.
The Color Run™, also known as the 'Happiest 5k on the Planet', is a unique paint race that celebrates healthiness, happiness and individuality.
Less about your 10-minute-mile and more about having the time of your life, The Color Run is a five-kilometer, un-timed race in which thousands of participants are doused from head to toe in different colors at each kilometer. The fun continues at the finish line with a gigantic "Finish Festival," using more colored powder to create happiness and lasting memories, not to mention millions of vivid color combinations.
So, whether you are a casual mall walker or a professional athlete, the 5km of The Color Run course will be the most memorable and colorful run of your life!
With only two rules, the idea is easy to follow:
1. Wear white at the starting line
2. Finish plastered in color
Do not forget your camera!
Entrance fee: 95 lei
Source: http://thecolorrun.ro/