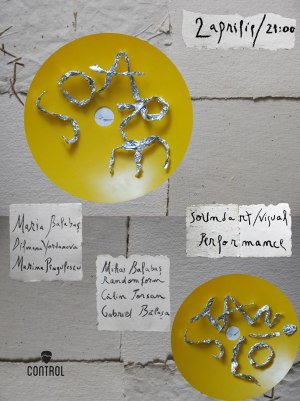 Concert

Soare Staniol

Wednesday, April 2th, 2014 – 21:00
Where
How much
10 LEI
What
Tinfoil Sun (Soare Staniol) concert-concept, experimenting around the fusion of acoustic instruments and electronic generated sounds.
downtempo / IDM / ambient / dark ambient / neo folk / spoken word / psychedelic
This Wednesday, April 2, in Bucharest @ Control Club
Soare Staniol a project by: Avant'n'Gard & Friends
Avant'n'Gard is an artistic Bucharest collective reunited around the idea of improvised music and naturalness of the musical performance. With its mixture of spoken poetry, urban mystic stories, ambiental rhythms, psychedelic sonorities, Avant'n'Gard it's a unique project on the Romanian scene.
Maria Balabas – vocals, keyboards
Mihai Balabas – violin, guitar, bass, effects
Calin Torsan – flutes
Gabriel Balasa – percussions
Friends:
Randomform - electronics
Marina Pîngulescu – vocals, violin
Dilmana Yordanova – visuals
Entrance fee: 10 lei, be there at 21:00