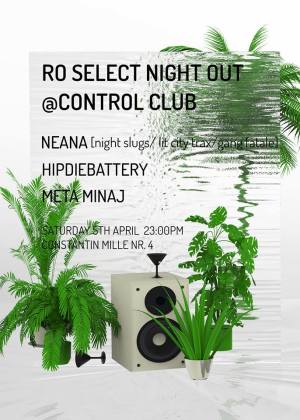 Party

RO SELECT NIGHT OUT with NEANA

Saturday, April 5th, 2014 – 23:00
Where
How much
10 LEI
What
RO SELECT NIGHT OUT with NEANA
#ROSELECT is host to some of the freshest, exciting new romanian designers (Anca Belbe, Ancuta Sarca, Drac de Mare, To each his own paradise, Imaculatura and Warp Hood), and you're in for a treat in 2014!

Stay tuned cuz they're also bringing some fresh vibes to the dancefloor, from their online platform straight to Control Club, with the newest member of Night Slugs family, NEANA!


NEANA [Night Slugs/Lit City Trax/ Gang Fatale]
https://soundcloud.com/neanatrax
http://nightslugs.net/

HIPDIEBATTERY
https://soundcloud.com/hipdiebattery

META MINAJ

-------------------------------------------------------------
10LEI

More
Ro Select is a platform that gathers young & fresh romanian designers.
The online shop provides a selection of garments, laboriously executed, by niche designers Anca Belbe, Ancuta Sarca, Drac de Mare, Imaculatura, To each his own paradise, Warp Hood.
They have also developed the Vintage Line that includes unique garments from California and Romania. Designers have a hands-on approach, creating their own prints or hand sewing their garments.