While in Bucharest, you may travel from downtown to different attractions and places and we recommend you take the tube. Whether not as developed as we might want it, it's still the fastest transportation in the city.
We prepared for you a short and helpful guide with some tips and information you'll find useful if you plan to move a bit during your trip to Bucharest. The metro stations map is also available with explanations for different journeys you may take.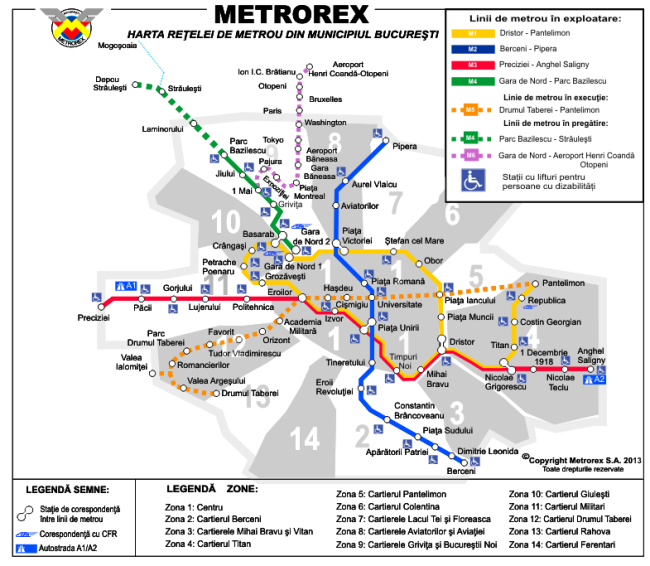 What is the fare for one trip with the metro in Bucharest?
A trip with the Bucharest subway will cost you 2.5 lei (less than 60 Euro cents). You may travel how many stations you need with no extra cost, but you have to remain inside the station. Getting out will force you paying another trip.
The tickets are only sold for 2 trips (5 lei – about 1 Euro), so keep your trip title and use it one more time.
Should I buy a daily pass for the Bucharest metro?
If you plan to move around a lot, a daily pass should be good for you. Actually if you plan more than two trips on that day. You only pay 8 lei (about 1.7 Euros) and you may use it as many times you want (with 15 minutes restricted access after each usage, so only one person could travel with it).
I stay a week in Bucharest. Is there any solution to pay less for the metro trips?
Yes. You can buy a pass for one week, which costs 25 lei (about 5 Euros) and you will have unlimited trips for the entire week.
What are the central metro stations in Bucharest?
The central stations, going along Lascar Catargiu/Magheru/Bratianu Blvd. (the central lane of Bucharest), are (from North to South)Piata Victoriei, Piata Romana, Universitate, Piata Unirii.
How do I get to Bucharest's railway station?
If you are in the centre, close to Universitate station for instance, you take the metro to Piata Victoriei than switch to the Gara de Nord station (one station only).
I want to visit museums in Bucharest. Should I take the metro?
Piata Victoriei station is few minutes close to some interesting museums in Bucharest, such as the Peasant Museum, Antipa Natural History Museum and the Geology Museum.
Going up in north one more station from Piata Victoriei, to Aviatorilor station, you'll be at a walking distance to the Village Museum, within Herastrau Park, the largest and greenest park in Bucharest.
If you prefer going south, towards Bucharest's downtown, take a walk on Calea Victoriei (in the close vicinity of Piata Victoriei metro station) and you'll soon (15-20 minutes) reach other museums: George Enescu Museum, the National Museum of Art and the Literature Museum.
You could also take the metro from Piata Victoriei for one station, to Piata Romana, which is closer to these museums.
I would like to visit the Palace of Parliament. How do I get there by metro?
Take the metro from Piata Unirii one station to Izvor. There you'll see it in all its "splendour".
I would like to take a walk on Cotroceni neighbourhood. Could I reach it by metro?
Good choice! IT's a nice residential neighbourhood with old villas, chill teahouses and a quiet atmosphere. Take the metro from Piata Unirii to Eroilor station (2 stations only).
Is there a typical market close to the centre of Bucharest?
Obor market is one of the most representative markets, being also the largest in Bucharest. You'll find bio groceries from peasants, a Chinese and Turkish bazaar and other attractive "exotic " venues. The metro station Obor is two stations away from Piata Victoriei.
I would like to spend some time in the student neighbourhood. What is the metro station where I should arrive?
The student neighbourhood is made of two main zones, along Dambovita river bank: Grozavesti and Regie. There are lots of dormitories, student pubs and discos. Take the metro from Piata Unirii and go to Grozavesti station (three stops).
Is there a shopping mall in Bucharest I could go by metro?
The largest shopping mall in Bucharest, AFI Palace Cotroceni, is 10 minutes walking distance from the metro station Politehnica, reachable from Piata Unirii (three stops).
Is there a metro line to the Airport in Bucharest?
Unfortunately there is no such connection currently. Bucharest's International Airport is located in Otopeni, a satellite town near Bucharest, where only the shuttle bus connects it to the city.
Mind the Gap! :)