We receive a lot of questions about gay day and nightlife in Bucharest from many tourists, so in this material we'll try to answer all of them and give you some tips on where to begin your search for some gay and gay friendly places and things to do in the capital of Romania based on what our gay friends recommended.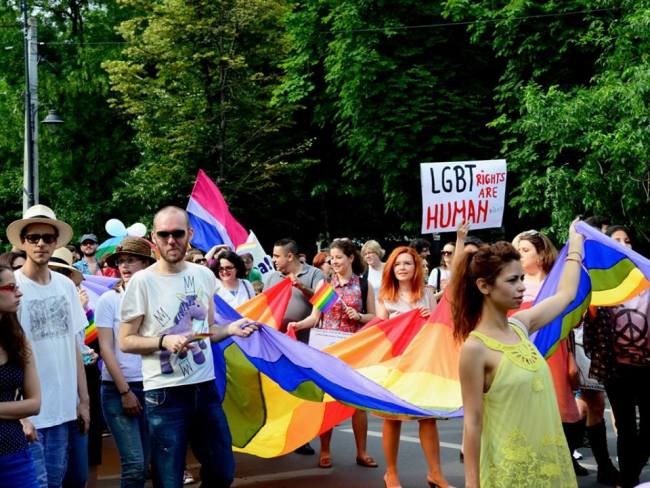 Bucharest Pride 2014
Although Bucharest is one of the largest cities in the European Union, the mentality change is way slower than the economical development.
Being gay in Romania is not exactly something to be proud of in public, and unfortunately Bucharest is no different.
Despite the fact that being gay stopped being an issue in some venues for quite some time, you'll still need to be careful and aware of your surroundings when kissing, holding hands and showing affection to one another, especially if you aren't in a central area of the city.
You have to bear in mind that the majority of the population belongs to the Orthodox Church and the religious dogmas are strong in the lives and minds of many individuals that believe the saying "Love one another!" refers only at persons of different sexes.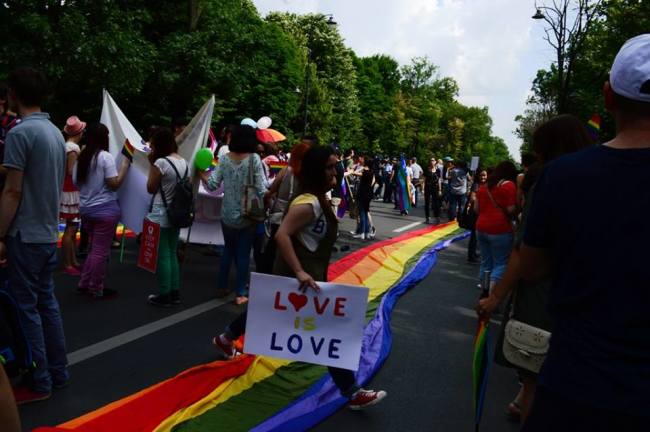 Bucharest Pride 2014
The education system also plays a role in the problem of discrimination against the LGBT community and the other minorities, through its lack of implication and ignorance over the matter, but now the country's anti-discrimination and anti hate crime legislation is progressive.
ACCEPT is the official Romanian LGBT organization.
Enough with the "dark side"! Bucharest is a fantastic city to explore and its life deserves to be known and enjoyed at the max.

So, what gay people do in Bucharest?
Strange as it may seem, there is only one club in Bucharest exclusively for LGBT community, but hopefully there are some cool gay friendly bars and clubs that deserve your attention too.
We hope that in the future there will be more entrepreneurs to explore the LGBT opportunities and needs.
Queens Club is the only gay (LGBT) club in Bucharest, situated on Carol Blvd. not too far from University Square. It is a dance club but unfortunately it lacks the personality. The crowd is friendly but money oriented, so if you want to have a paid affair in Bucharest this could be the place for you. It is opened from Friday till Sunday from 23:00 till 06:00.
Control Club is a Pub, Terrace, and Concert Venue where hip people meet and great parties and events are always happening. For some, this Bucharest venue is the biggest alternative venue in the city and for some a real trend setter. Some of the best Queer Night parties were hosted by Control; the crowd is relaxed and joyful and you can dance in the club or just relax on the terrace and make friends. Great music, concerts, DJs and atmosphere! No special outfit needed, just be you… and don't forget your wallet it is not (that) cheap.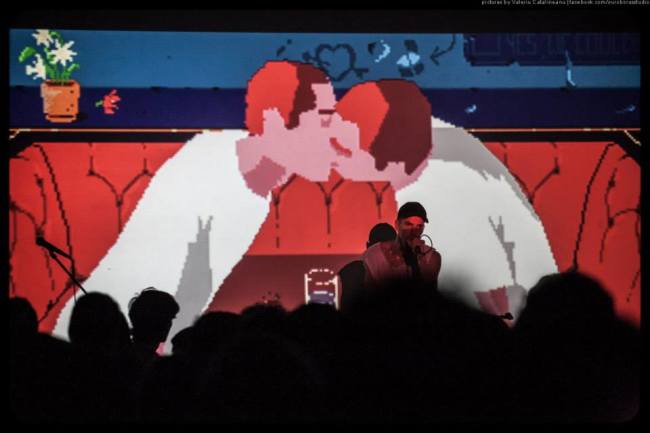 Photo credits: Control Club
They also own a restaurant upstairs called Alt Shift where you can eat and enjoy a peaceful night.
Hosted by the Stirbei Palace on Calea Victoriei, Eden Club is another gay friendly place for you in Bucharest. The club is located in the basement of the palace, mainly electronic music and eclectic themed parties. They also own a fantastic garden (Gradina Eden – The Eden Garden ;) for the summer season and even a winter terrace.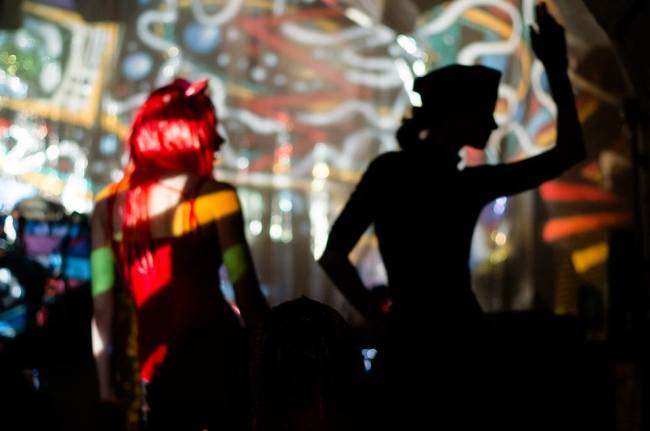 Photo credits: Eden Club
Expirat, a dance club on Brezoianu St., close to the Old Town, is also a friendly place (although not at all a LGBT club) where you can dance all night and enjoy a great mojito drink. The crowd is young, mostly students and young professionals who know how to party.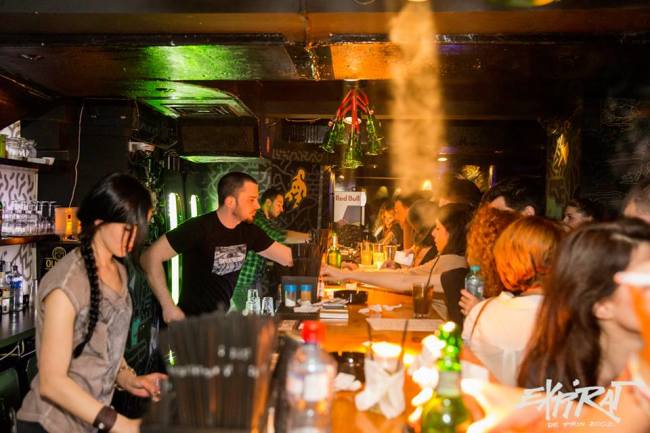 Photo credits: Expirat Club
For corporate and more pretentious people, Gaia Boutique Club located on Tarmului St., in the Northern part of the city is "The place to be for fashion and fashionable people!"(Club's motto). The venue is recognized for wild themed parties and dressy crowd. Dress code needed. (plenty of LGBT people although not exactly a gay club)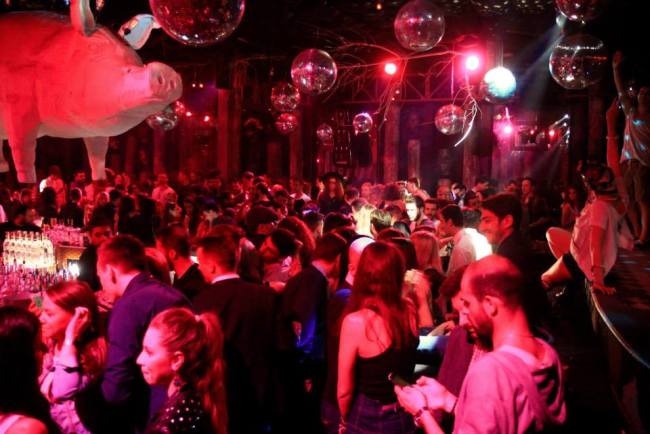 Photo credits: Gaia Club
These are the clubs recommended by our gay friends, and you might say "that the night is still young, what else we can do in Bucharest?"
Hopefully there are lots of gay friendly bars, tea houses and pubs to try in the Romanian capital.
Opened 24h, Phoenix Pub, situated near the Botanical Garden in Cotroceni area, is a cozy place for young people, students and in general open-minded individuals. Every Friday they host a crazy Karaoke night, the APEROL SPRITZ is exquisite, good food at fair prices and great rendezvous place.
Another place for you to try is A1 Bar & Bistro near Calea Victoriei, close to Amzei Sq. It is bar with attitude, welcoming creative people to unchain their minds and have a great time. Hundred beers and a bunch of good wines.... with tasty food!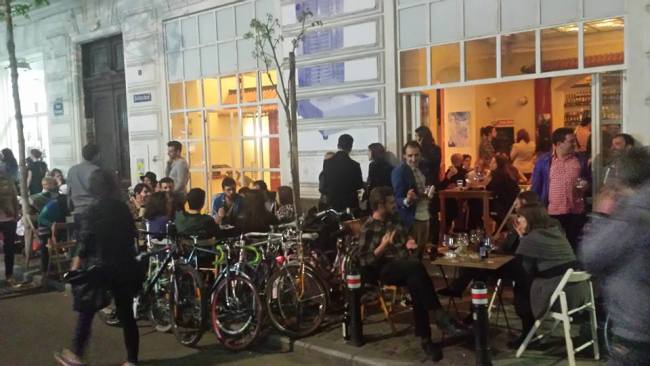 Photo credits: A1 Bar
Dianei 4, located in a beautiful, full of history old house (a former communist security headquarters) is a bar and a terrace near Rosetti Square where you can spend an evening surrounded by friendly people in a cozy atmosphere. Nice music, sometimes concerts and great parties in the weekends.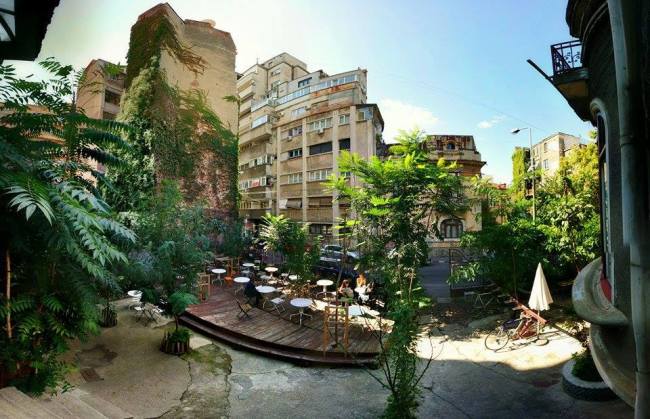 Photo credits: Dianei 4
Kombinat House hidden on 21 Pitar Mos St., 5 minutes from Piata Romana metro station, is the new place where you can shop downstairs and drink a cup of tea, work or just relax in the living room upstairs.
If you are curious about how the interior of an interwar Bucharest house looks like feel free to visit. The Kombinat living room is a self-service place where you can drink a homemade lemonade or ice tea in the summer, or a hot chocolate or tea in the winter. They don't serve alcohol but you can bring your own.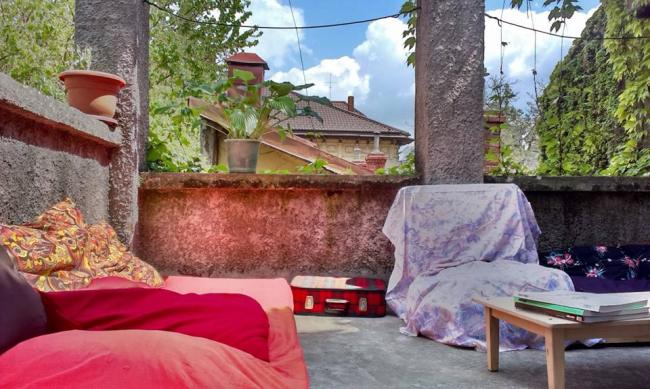 If you like bikes and cocktails, Bicicleta is a cool small bar in the Bucharest's Old Town which deserves your attention. The interior design of the place is made from recycled bicycles parts, which invite you to ride a bike while enjoying your favourite drink. The music is good and the weekends are electrifying.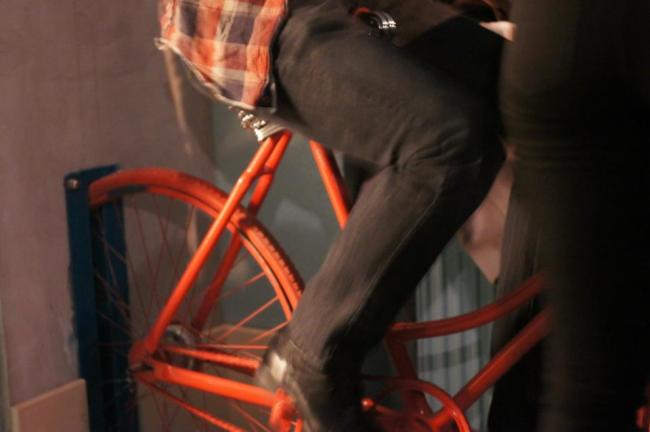 Photo credits: Bicicleta
For a classy night in the Old Town, a good glass of wine and dinner, Van Gogh Café is a restaurant which puts the customers' wellbeing first. So, it could be your dinner destination before the night starts in the town.
Near the Old Town and out of the crowded centre, you can try Energiea, a beautifully designed pub, for great food, a beer or a glass of wine.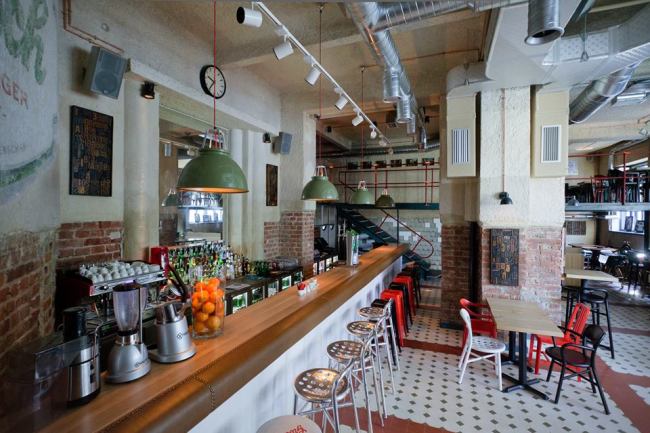 Photo credits: Energiea
Cotroceni area is a must see part of Bucharest, a greener and quiet part of a not such a green city, if you like beautiful houses and streets, and if you like soup, Ota is the place for you. Situated on Dr. Staicovici St. in Cotroceni area, not too far from Operei Square, Ota is recognized for soup, drinks and wild parties.
If you are looking for a peaceful retreat near the centre of Bucharest and meanwhile discover some of the city contrasts, J'ai Bistrot is a nicely designed gastro pub with a beautiful garden located in a not so fancy neighbourhood.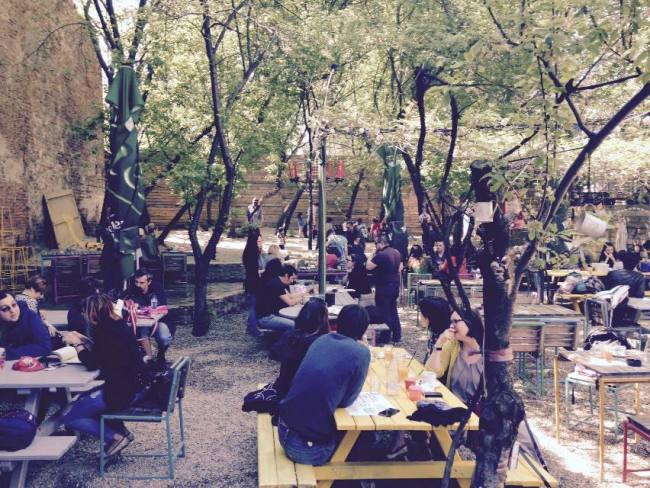 Photo credits: J'ai Bistrot
If you are a tea enthusiast you have to try Ceainaria 5, a teahouse with a beautiful garden not too far from Unirii Sq., hosted by Doors Hostel.
An eclectic themed bar and terrace, MODELiER is a nice place, where you can enjoy a burger with your friends in any moment of the day. Dana, the owner of the place says that you will find here "your very own oasis from the busy Bucharest ". Read Dana's Bucharest tips here.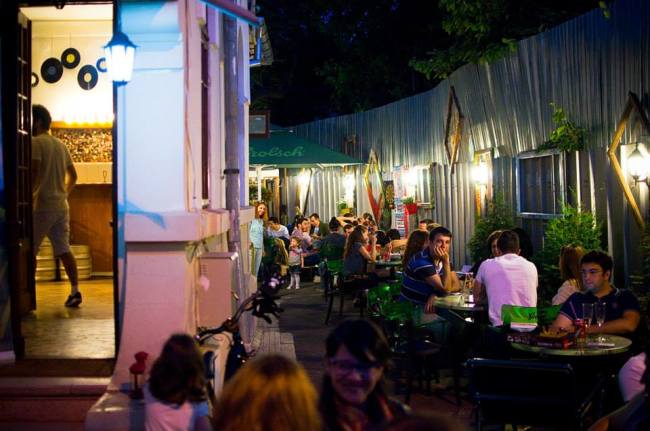 Photo credits: MODELiER
Another place where you can eat a great burger and grab a beer is LOKAL, a gastro pub and terrace close to Romana Sq., located in a former communist office building. Nice people, good vibe and sometimes parties.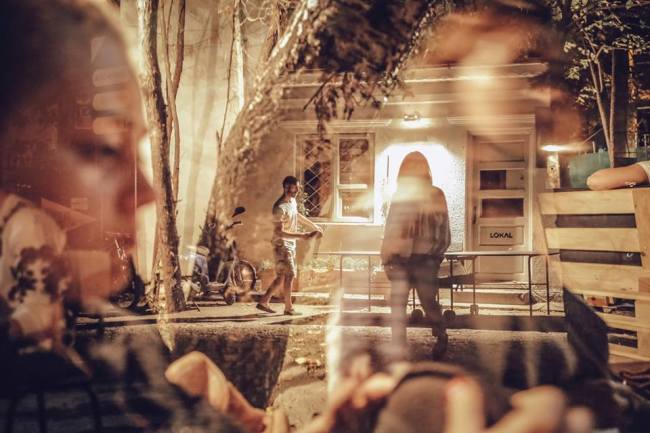 Photo credits: Razvan Leucea/ LOKAL
Lente Cafe is a positively non smoking bistro "where good food meets the feeling of intimacy" (Bar motto). They have more locations in downtown Bucharest, one on Praporgescu Street, and the other on Arcului Street (nice terrace there), with nice design and positive vibe where you can grab something to eat, drink or play even some board games. They welcome kids, bikes, pets and open minded people.
These are some of the places where our gay friends like to spend their time and although the local gay community tends to keep a low profile we are sure that you will find many more.
Disclaimer: don't make out ostentatiously, people dislike that even with straights.